35 "But love your enemies, do good, and lend, hoping for nothing in return; and your reward will be great, and you will be sons of the Most High. For He is kind to the unthankful and evil.  Luke 6:35 NKJV  
By Bro. John L. Cash
My mom lives in an assisted living. I realized I've never written a column about that. I think I never mentioned it because when she first moved into memory-care, we hadn't sold her house yet, and it still had all her belongings sitting in it. I was afraid some burglar might run across one of my columns and steal all her stuff before we got the house cleaned out. Alas, my childhood home has had a new owner for several years, so I guess we're all safe now.
When I was a little kid, I was always a little scared when I visited a nursing home. I thought homes for the elderly were dark and bleak, like something out of a Charles Dickens' story. But my mom's assisted living is nothing like that. It's kind of like she's living in a really nice hotel with an attached restaurant (and servants.) She and I have agreed it isn't the same as being at home, but all in all it's a pretty nice place to live.
A few weeks ago, I had the joy of celebrating my mom's birthday with her and a lot of our family. All my life, people have told me I look like my mother. (When I showed up at the assisted living, a nurse said, "Miss Peachie, your twin is here!") But when we were growing up, people always said that my sister, Cathie, looked like our dad. I was very pleased to see that, as we've gotten older, my sister and I look a great deal like our mother and a great deal alike. What do you think?
I saw a neat sign in the nurses' station at my mom's home. It has only 8 simple words: "Do the kindest thing in the kindest way." I've seen a great deal of kindness in the way that my mother's caretakers tend to her, and whenever I see the sign, it makes me want to be a better person. So, this week, let's try to do the kindest thing in the kindest way. Surely that is the heart of the Christian gospel and the heart of a Christian home.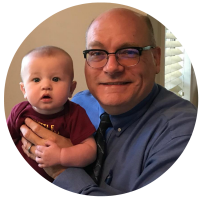 John L. Cash is the "Country Preacher Dad." He was raised in Stuttgart, Arkansas, and has spent the last 33 years being a country preacher in the piney woods five miles south of the little town of Hickory, Mississippi. He's a retired Mississippi public schoolteacher with grown sons, and is now a stay-at-home-grandpa with his grandson, Landon Cash. He and his lovely wife, Susan, live in a brick house in town (where the Mississippians are eagerly awaiting Autumn weather.) You can send him a note at brotherjohn@ilovechurchcamp.com.