8 Oh, taste and see that the LORD is good;
   Blessed is the man who trusts in Him!      Psalm 34:8 (NKJV)
By Bro. John L. Cash
Do you know who your "celebrity birthday twin" is — the very famous person born on the same day (in the same year) that you were born? Most people have at least one. I have a celebrity birthday twin, but I'm not going to tell you who she is. I don't want to "snark" on her because that's not the point of the story.
If you're resourceful (and bored with a lot of time on your hands) you could probably figure out my CBT via a Google search. (Or, if you sent me an email, I might tell you. I love to get emails.) So, as my theology professor Robert Herring Smith used to say, "I'll leave you to your research."
Now back to my story. When I was 21 years old (and my CBT was 21 years old, too… duh), I was reading a magazine article about her. She was very rich, very beautiful and very popular, and her picture was on the front page of a magazine. (I've never even been accused of being any of these things.) So, I was telling my mom about my CBT, and I said, "You know, we're exactly the same age. Born on the exact same day. But I'll bet she has had an easier life than I've had."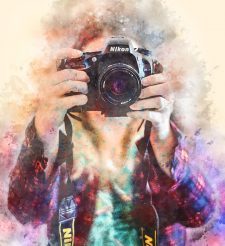 My mom said, "I don't know about that, John. If you knew all the facts, you might be surprised."
I thought for certain she was wrong.
Well, flash forward to now — more than 35 years later. I have to say, from everything I've read in magazines, my life has been much easier than the life of my CBT. The ordeals celebrities go through can be brutal at times. And looking back on it, I've spent the bulk of my life with my family and friends, with my church, and teaching school with people I love. Furthermore, the Lord has been with me and helped me every step of the way. It's been a wonderful life.
If we're honest, there's a part inside each of us that believes we'd be happier if we were one of the people on the front cover of "People" magazine. But deep down we also know that the things of this world often bring heartache instead of happiness.
So, this week, give thanks for the little corner of the world you've been given, and ask the Lord to bless it.  I'm sure it's better to be the "CPD"—the "Country Preacher Dad"—than the "CBT".
Dr. John L. Cash is the "Country Preacher Dad." He was raised in Stuttgart, Arkansas, and has spent the last 33 years being a country preacher in the piney woods five miles south of the little town of Hickory, Mississippi. He's a retired Mississippi public schoolteacher with grown sons, and is now a stay-at-home-grandpa to grandson Landon (and hopes that granddaughter Eliza Bea will stay with him some day.) He and his lovely wife, Susan, live in a brick house in town (where the sun finally came out and they released a dove from the Ark this week.)  You can send him a note at brotherjohn@ilovechurchcamp.com.