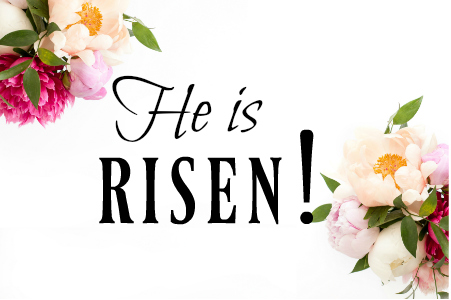 6 But he said to them, "Do not be alarmed. You seek Jesus of Nazareth, who was crucified. He is risen! He is not here. See the place where they laid Him.
7 "But go, tell His disciples–and Peter–that He is going before you into Galilee; there you will see Him, as He said to you." Mark 16:6,7 (NKJV)
By Bro. John L. Cash
My favorite preacher of all time is Dr. Martin Luther. If you were paying attention in school, you'll remember that he started the Reformation back in Germany over 500 years ago.
At first glance, that such an ancient author is my favorite constant companion sounds incredibly boring. But the writings of Brother Martin fill my heart with spiritual light and unspeakable joy because his writings are so very real; He is humble and yet profound, deep and yet earthy and humorous.
Though he lived so long ago, he understands the blessings and struggles of the Christian life—which are the same now as back then. (Believe it or not, Susan and Spencer have begun to share my love of this pastor after stumbling upon my books—after thinking me to be somewhat of a crackpot for so many years. I'm expecting Seth to jump on the bandwagon next.)
Throughout my adult life, the volumes of Luther have always been on my nightstand and are my nightly devotional reading before I turn out the light. Susan always says, "You love Martin Luther more than you could ever possibly love me." I always give her the same answer: "Not more, honey. Just different." You see, in my estimation, no one understands and expresses the beauty of our faith better than Martin Luther.
Every Easter I find myself at a loss for words—I just don't have words good enough to express what I feel about what God did for us on that happy resurrection morning. Since I can't find the words I need, I'm borrowing them from Martin Luther's prayer on Easter Sunday, 1533. I hope his words make you as happy as they make me. (The formatting and emphasis is mine.)
Almighty God,

Who through the death of Thy Son hast destroyed sin and death,

And through His resurrection hast restored innocence and eternal life

That we, being delivered from the power of the devil,

May live in Thy kingdom,

Grant that we may believe this with our whole heart

And steadfast in this faith, ever praise and thank Thee,

Through Thy Son, Jesus Christ our Lord.

Grant, dear Lord God,

That the blessed Day of Thy holy advent may come soon,

So that we may be redeemed

From this bad, wicked world

(The devil's dominion)

And freed from the terrible plague that we must suffer

From without and within

(From wicked people and our own conscience.)

Do Thou dispatch this old maggot sack

That we may finally get a different body,

Which is not full of sin,

Inclined to unchasteness and to everything evil

(As this present one is)

But one that is redeemed from all bodily and spiritual misery

And made like unto Thy glorious body, dear Lord Jesus Christ,

That we may at last come to our glorious redemption.

Amen.
(From our house to your house, have a wonderful Easter. Take time to feel the joy. Jesus Christ is risen, indeed! Allelujah!)
Dr. John L. Cash is the "Country Preacher Dad." He was raised in Stuttgart, Arkansas, and has spent the last 34 ½ years being a country preacher in the piney woods five miles south of the little town of Hickory, Mississippi. He's currently on a sabbatical from the preaching ministry, and is an English teacher at the Choctaw Tribal School. He and his lovely wife, Susan, live in a brick house in town (where the Methodist Church ladies delivered Easter Bunny eggs in a bag for us to hide this week.) You can send him a note at brotherjohn@ilovechurchcamp.com.