10 Be still, and know that I am God; I will be exalted among the nations, I will be exalted in the earth!  Psalm 46:1- NKJV  
By Bro. John L. Cash
Weather-wise, Mississippi is a lot like living in the tropics. Most of the time the weather is warm (or hot) and humid. One time during July, I was entertaining a missionary from Africa at my home. I asked him if Kenya was more humid than Mississippi. He said, "Brother John, the weather today in Mississippi is 98 degrees and 98% relative humidity. You can't get much more hot and humid than that."
Once in a while we have a really cold winter in Mississippi. But sometimes it seems like we even "skip" winter. Many children in our State don't even own a winter coat. Usually a jacket will suffice. When Spencer was little, he always said you can tell you live in Mississippi when you're able to go outside barefoot wearing shorts to play with your new toys on Christmas Day.  Sometimes it's just that warm.
That's why I'm enjoying this morning so very much. We're having a beautiful autumn day.
The weather is cool, and a rain shower passed through before I woke up this morning. Leaves are falling everywhere, and the ones that are still on the trees have just a glimmer of gold. And right at this moment, it's so very quiet. And so very still. I'm just sitting and enjoying the blessing of peace.
It all makes me think of what King David wrote in Psalm 131. Here's how it's translated in the Good News Bible:
1 LORD, I have given up my pride
and turned away from my arrogance.
I am not concerned with great matters
or with subjects too difficult for me.
2 Instead, I am content and at peace.
As a child lies quietly in its mother's arms,
so my heart is quiet within me.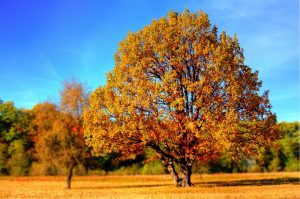 What I'm learning after all these years in the pastorate is that God is with us in every time and season of life. He's with us in the hustle and bustle of family life and raising our kids. He'll be with us as we dash from place to place as we celebrate the holidays. But He's with us in the stillness, too.
Take a little time to unplug everything and turn everything "off." And after that, just listen to the peace and quiet.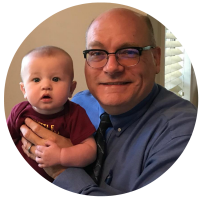 Dr. John L. Cash is the "Country Preacher Dad." He was raised in Stuttgart, Arkansas, and has spent the last 32 years being a country preacher in the piney woods five miles south of the little town of Hickory, Mississippi. He's a retired Mississippi public schoolteacher with grown sons, and is now a stay-at-home-grandpa with his grandson, Landon Cash. He and his lovely wife, Susan, live in a brick house in town (where the outdoor cats are being quiet today, too.) You can send him a note at brotherjohn@ilovechurchcamp.com.