Note from the mamas: Brother John is on Spring Break vacation this week, so we're publishing an "encore performance" of his very first Sunday devotion ever published here on nwaMotherlode. (His kids were teenagers at the time.) Nearly seven years later, we think his first column still inspires weary, overwhelmed parents everywhere to hang in there and keep the faith. It really does get better.
¶ And it came to pass, that, when Jesus was returned, the people gladly received him: for they were all waiting for him.Luke 8:40
By Bro. John L. Cash, "Country Preacher Dad"

If you turned your back for an instant, my son Spencer ate the coffee grounds – sixteen years ago, I mean, when he was a year old. I remember one morning when I was drinking my first cup of coffee, watching the "Today" show, trying to recover from a long night tending to a teething baby, when I heard the distinct splat of a used coffee filter slapping the floor.I rounded the corner to find my little son using both hands to smear a work of art on the linoleum with both of his tiny hands. Seeing me, he crawled through the soggy Maxwell House to attempt to escape and began to hide the evidence by shoveling the coffee grounds into his mouth. After that, he smiled at me because he was so delighted with his efforts. I hoped he wouldn't black out from caffeine poisoning.
I told this story to some of my parishioners at church who had older children, and they said, "It doesn't get any better."I remember thinking, "I don't know if I want to go on living." I mean, if children never sleep all night, and if you always have to be on alert like a human home-surveillance system to keep them from snacking from the trash can…well, it just seems like too much!
But then, my piano player offered me a glimmer of hope. She said, "Brother John, it DOES get better. I mean, kids don't always swipe the coffee filter out of the trash can.They get older, and they can dress themselves, and run their own bathwater, and they get to where they can fix themselves a bowl of Cheerios in the morning.But as they get older, you have a DIFFERENT set of problems. But the present set of problems does go away."
Time has passed, and the piano player was right. I no longer think about the waste bin, but I am always thinking about a new set of problems…things like learner's permits, and cell phones, and curfews, and MySpace.I love the phrase in the King James Bible, "It came to pass."I know that's only an old way of saying that "It happened", but I love the sound of it. "It came to pass."All those bad situations in the Bible didn't "COME to STAY", they "CAME to PASS!"
So enjoy your children, whatever age they are. And treasure the period of life where they are now because they grow up too fast.I have found that God is always with us, if we look for Him. And He sees to it that the troubles didn't come to stay, they came to pass.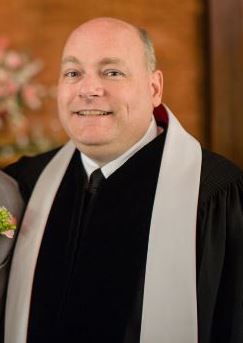 Dr. John L. Cash is the "Country Preacher Dad." He was raised in Stuttgart, Arkansas, and has spent the last 29 years being a country preacher in the piney woods five miles south of the little town of Hickory, Mississippi. (On week days has a desk-job at a public school, where he used to teach Latin on closed-circuit-television.) He and his lovely wife, Susan, live in the parsonage next door to the Antioch Christian Church (where the temperature dropped from 72 degrees to 28 degrees within a few hours this week.) Their kids include Spencer (age 23), his wife Madeline (age 23), and Seth (age 20).