16 ¶ Rejoice always,
17 pray without ceasing,
18 in everything give thanks; for this is the will of God in Christ Jesus for you.
1 Thessalonians 6:16-17 (NKJV)
By Bro. John L. Cash, "Country Preacher Dad"
From the letters I get, I sense that a lot of my readers are mothers with small children. My sons are almost grown now, but I still have warm memories of their childhoods and I reflect on those days often. Since you now stand where I once stood, I want to pass along some good advice I got when my babies were small—along with something I've learned myself since then.
When my sons were babies, parents who had older children or teenagers always told me, "Treasure these days! Enjoy them while they're little. These days will fly by, and they are only babies once." So, Susan and I tried to do that. We did strive to treasure those days and to make the most of them, kind of like when the Bible says "Mary kept all these things, and pondered them in her heart." (Luke 2:19) The days of infancy and early childhood are magical and worthy of all celebration.
However, the advice I got from other parents also made me feel a little anxious and apprehensive. What I mean is, they sort of made it sound like, "It's wonderful when your kids are little—but once those days are over, life isn't good any more." It was depressing to hear them imply that after "the baby years" life is all downhill from there!
Well, the years have passed, and I want you to know what I've discovered. The years of infancy and toddlerhood are wonderful. But so are the elementary school years. And the middle school years are lots of fun. And the junior high years bring lots of smiles and laughs. And the high school years have lots of happy occasions and joys. And the beginning of the college years bring lots of happiness, too. I guess what I'm saying is the same thing Carly Simon said in her song "Anticipation": "These are the good old days."
Now let me make myself clear. There hasn't been a single period of married life or parenthood that hasn't had its share of trials and struggles. We have to seek help from the Lord and our friends and loved ones in those hard times. But every period of life has its blessings, too. I plan on looking for the joy and blessing in every stage of life I pass through—because I think that's what our Lord wants us to do.
I'm sorry I can't write more right now, but you see, I've got some things to do. Spencer is telling me about the fine points of the English poetry that he's studying, and Seth is grilling Susan and me a venison steak from the deer that he shot last fall. (You get the picture.)
Mamas, whatever the period of life, love your family. Seize the day.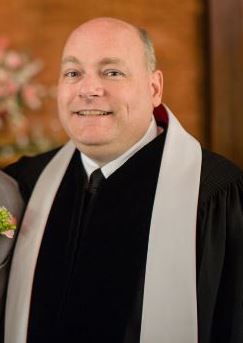 Note from the mamas: This post previously ran on Motherlode in January 2012. Dr. John L. Cash is the "Country Preacher Dad." He was raised in Stuttgart, Arkansas, and has spent the last 25 years being a country preacher in the piney woods five miles south of the little town of Hickory, Mississippi. (On week days he works at a public school.) He and his lovely wife, Susan, and his sons, Spencer (age 19) and Seth (age 16) live in the parsonage next door to the Antioch Christian Church (where the Preacher misses his sons sitting in his lap but is also glad they can now run their own bathwater.) He would love to hear from you in an email sent to jcash@scott.k12.ms.us.