16 Make the most of every opportunity in these evil days.  Ephesians 5:16 (NLT)
 By Bro. John L. Cash
I'm writing you a short devotion this morning, because I know you have other fish to fry. You probably don't have a lot of extra time for reading, because ready-or-not, Christmas is upon us. So, I just want to give you a quick bit of advice today.
Whenever I'm conducting a wedding ceremony, I always begin by covering my lapel microphone and giving counsel to the nervous bride and groom. I tell them, "Look, you've spent months planning this celebration. Now we're at the wedding. This thing is going to happen fast. In 20 minutes the wedding will be over. This is a beautiful, beautiful time in your life. So you both need to relax. Take a deep breath, and pay close attention, and enjoy these minutes. Because if you don't calm down, you're going to miss it."
That's my standard pastoral advice for weddings. And for you, today, it's my standard advice for Christmas.
"For unto you is born this day in the city of David a Saviour, which is Christ the Lord." The blessings of the Season are about to be poured out upon you. Slow down and open your eyes and your heart so you can drink them in.
Christmas. It's going to happen fast. Calm down, or you're going to miss it.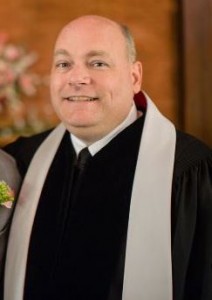 Dr. John L. Cash is the "Country Preacher Dad." He was raised in Stuttgart, Arkansas, and has spent the last 28 years being a country preacher in the piney woods five miles south of the little town of Hickory, Mississippi. (On week days has a desk-job at a public school, and until recently taught Latin on closed-circuit-television.) He and his lovely wife, Susan, live in the parsonage next door to the Antioch Christian Church (which is a beautiful place to celebrate the joys of Christmas.) Their kids include Spencer (age 22) and his wife Madeline (age 22), and Seth (age 19).