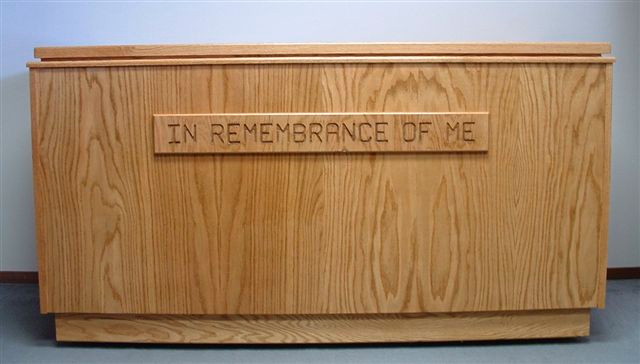 4 Therefore we were buried with Him through baptism into death, that just as Christ was raised from the dead by the glory of the Father, even so we also should walk in newness of life. Romans 6:4
By Bro. John L. Cash, "Country Preacher Dad"
In the brotherhood that I'm a part of, we baptize by immersion. When I first came to the country church all those years ago, I baptized new converts in a local pond. Unfortunately, that pond dried up so the congregation had to get an indoor baptistry. I love our baptistry because I think it's pretty cool. It was designed for use in prisons, so it doesn't take up much room. The preacher doesn't even have to get wet when we he baptizes someone, and when he gets finished, he can put the lid on the baptistry and use it for a communion table. (The photo at the top shows the baptistry when it's in communion table mode. This next picture shows how it transforms into a baptistry.)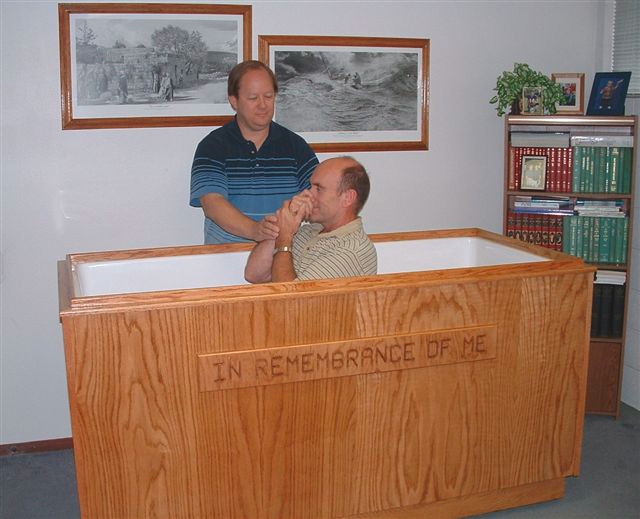 When we built our new sanctuary, we had our baptistry permanently installed under a window behind the pulpit. But before that, we actually used it for a while as a communion table. It was a very large communion table, and you couldn't miss noticing it when you came into our church.
During those years, a five-year-old boy from our congregation had a conversation with his parents. It went something like this:

Boy:  "I will never go to Heaven."

Parents:  "Of course you will!  What would ever make you say a thing like that?"

Boy:  "I will never go to Heaven, because I will never be saved."

Parents:  "Of course you will be saved! What are you talking about?"

Boy:  "I'll never be saved because I'll never be baptized."

Parents:  "Why do you think you will never be baptized?"

Boy:  "I'll never be baptized, because they are never going to put ME in that TOMB !"
Now to be fair to this lad, I understand his fears. Our baptistry did look like Jesus' tomb from the Sunday School picture on Easter.  More than that, the baptistry looked a great deal like the above-ground tombs in the church cemetery across the road from the church. Who would consent to the risk of being trapped inside something as scary as that?
Well, this story has a happy ending. The little boy in the story grew up and got over his fear of the communion-table-baptistry. He was baptized into Christ, and he and his wife and child are members of our congregation. He is also one of my deacons. And he understands what the Apostle Paul was teaching in today's Scripture lesson (at the top). In baptism, we are buried with Jesus Christ.  The old man of sin dies and is buried, and the new babe in Christ is raised to new life. Let's ask the Lord to help us to follow Him more closely this week, as we strive to walk in "newness of life."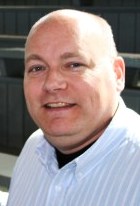 Dr. John L. Cash is the "Country Preacher Dad." He was raised in Stuttgart, Arkansas, and has spent the last 26 years being a country preacher in the piney woods five miles south of the little town of Hickory, Mississippi. (On week days he has a desk-job at a public school and teaches Latin on closed-circuit-television.)  He and his lovely wife, Susan, and his sons, Spencer (age 20) and Seth (age 17) live in the parsonage next door to the Antioch Christian Church (where the Preacher fills the baptistry out of the hot water tank so that the children don't freeze when he dunks them.)  He would love to hear from you in an email sent to jcash@scott.k12.ms.us.