10 When my father and my mother forsake me, Then the LORD will take care of me. ~ Psalms 27:10 (NKJV)
By Bro. John L. Cash, "Country Preacher Dad"
Autumn is my favorite season of the year. Autumn makes me think of Thanksgiving, and at Thanksgiving I'm always thankful that Autumn is so beautiful. Last weekend, we rented a very nice cabin at a Mississippi State Park to enjoy the sights and sounds of Fall.  Susan and Seth and I traveled from the country church to Tupelo, and Spencer (and his girlfriend, Madeline) traveled over from Oxford so we could all spend some time together. One time we grilled hamburgers and hotdogs, and another time we grilled steaks.  The young people played disc golf. We sat and watched the ducks in the lake. We put together jigsaw puzzles and went to see "Puss in Boots." It was one of those perfect weekends that come around every so often. It was like something you read about in a church newsletter–you know, when the church secretary writes, "A good time was had by all."
On Saturday morning, I woke up early as I usually do. I decided I would just be still and not get up because when you get up and stir around you tend to wake up everybody else in the house. So I just lay still and dozed off for another snooze.
We were all completely peaceful until 8 a.m. Then a noisy pounding jolted us all to consciousness. A forest ranger was banging on the front door. I jumped out of bed and ran to see what the matter was. I felt better as soon as the ranger began to speak. "Have you lost a cell phone?" he asked.
"I haven't," I said, "but someone in my house might have. What does it look like?"
"You tell me," was his terse reply.
(I realize now that the forest ranger had taken one look at me in my pajamas and summed up my personality and character. Obviously, I look like a man who would take another person's cell phone "by hook or by crook." He couldn't run the risk of telling me what the cell phone looked like. If he had simply told me what the cell phone looked like, I might have lied and taken it even if it wasn't mine. Then I could have put my SIM card in it, and voila!  A free instant phone upgrade!)
(But I digress….)
I thought about Susan's phone and said, "A phone with a pink rubber cover?"  And with that, the park ranger handed over the cell phone.  He said someone had found it in the parking lot next to the ranger station.
"By the way," the ranger said, "we went through the phone's address book and called your mothers to see if they would tell us who the phone belonged to. We've been going from cabin to cabin because your moms wouldn't give us any information."
Susan and I thought of our mothers and immediately knew the reason for the reluctance in giving out details. We knew their reasoning went something like this:  "I heard about this scam on Regis and Kathie Lee. First the con men call and say that they found your kid's cell phone. When you give the crooks their name, they cut off the person's head and mail it to the next of kin. It's all part of a gang initiation or something. A person can't be too careful these days."
But, really, (all silliness aside) isn't it kind of flattering to have a loving mother? No matter how old you get, you were you mother's little baby once. Susan and I are blessed to have mothers who love us — who won't give up on us, and won't "give us up" to the bad guys. At Thanksgiving, we're thankful for that.
By the way, today's Scripture lesson (at the top) talks about the steadfastness of a mother's love.  But it points out that there is One who loves us even more than our parents do. That's really hard to imagine. And even if all else fails, He will take care of us. That's something awesome to be thankful for.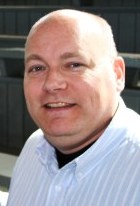 On top of all your other Thanksgiving blessings, you are loved by the Lord. This week, rejoice, and give thanks.
Dr. John L. Cash is the "Country Preacher Dad." He was raised in Stuttgart, Arkansas, and has spent the last 26 years being a country preacher in the piney woods five miles south of the little town of Hickory, Mississippi. (On week days has a desk-job at a public school and teaches Latin on closed-circuit-television.)  He and his lovely wife, Susan, and his sons, Spencer (age 20) and Seth (age 17) live in the parsonage next door to the Antioch Christian Church (where the Preacher's family will be thankful to be out of school this week.)  He would love to hear from you in an email sent to jcash@scott.k12.ms.us.