I can't think of any mom who doesn't WANT to have her family photos organized and easily accessible so

she and everybody else can enjoy them. But often what we WANT and what we have TIME to actually do are two totally different things. So… with that in mind, I may have stumbled on a solution for mamas who would really like to enjoy family snapshots without printing them, scrapbooking them or organizing them into family albums.
Technology is a wonderful thing for photos. You can now create your own family's website without knowing a single thing about how to create a website. Cool, huh? The one that I just set up for my family is through Shutterfly.com. I was already a member of Shutterfly (free membership, by the way), so most of my photos were already loaded onto their system. If you're not a member, you can easily sign up and upload photos from your computer to their website.
Once your photos are loaded, you can create what they call a "share site." It can be public (as in, anyone can access it if they have the URL address), or it can be private (as in, you need a password to see it.) Believe me when I tell you this: I created a family website in less than 20 minutes! I swear, it's true. If you can read, point and click, then you can do this. You don't need ANY special skills to pull this off.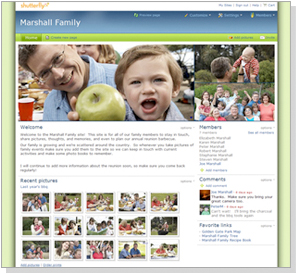 What I love about this idea is that it allows your friends and family — no matter how far away they live — to visit your site and see how your kids are growing and find out what you've been up to. They can even order prints of your pics if they want to. You don't have to update it every day or even every month. You can write as much or as little as you want to.
What makes this such an easy thing is the template that's already set up and ready to go. You just pick a color scheme you like, pick the features you want and then drag and drop your photos into place. Presto — family website.
You could also set one of these "share sites" up for different occasions like a pregnancy journal, new baby, engagement, summer trip, church youth group, your kid's classroom activities, etc. Lots of possibilities.
Cost: It's FREE, people! It won't cost you a dime to set it up. In fact, Shutterfly sent me an e-mail

saying I have earned credits for free 4×6 prints just for starting my own "share site." Woo-hoo!
This is also great for people who take lots of photos but rarely get around to actually printing those photos and getting them into an album. If photos are just sitting there on your computer, there's no reason why they can't sit on a website that you can actually enjoy and let your family enjoy, too. Hope you have as much fun setting it up as I did!
If you set one up and love it, send me an e-mail with the URL. I'd love to check it out! Send the e-mail to gwen@nwaMotherlode.com. And we'd love it if you'd link to nwaMotherlode from your new family website!