Cox Communications is traveling across America to show how their broadband "wall to wall coverage" can make your house smarter — and make your life easier.
Cox, the sponsor of our "Above and Beyond" feature here on Motherlode, partnered with Buffington Homes in Bentonville to showcase more than 60 cutting-edge smart devices last week, including many a mama couldn't help but love. Our kids may wish we hadn't seen this, but they had an Oral-B Pro 5000 toothbrush there that uses wireless tech to tell you if you're brushing too hard, if you brushed long enough and even if your brushing habits have improved. It communicates with an Oral-B app on your smartphone. Cool, right?
Ooh, and let us tell you about the simplehuman Sensor Mirror Pro. No lie, this mirror can show you how you'll look in natural sunlight OR in over 50,000 color variations, like the office, gym, mall — before you get there. You can even use the app to create custom light settings for all the places you go each week. How's that for a smart mirror?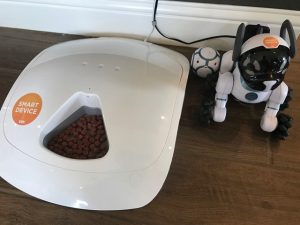 We also met CHiP the Robotic Dog, whose advanced tech allows him to learn, adapt and develop his own personality over time. CHiP reacts to your voice and gestures as he learns new tricks, plays and shows affection. He's pretty good at yoga, too. Downward Facing Dog is his favorite pose.
If you have an IRL dog, the "Feed and Go Feeder" might be in your future. It lets you watch and feed your pets no matter where you are. It has a built-in webcam, so you can talk to your fur babies with a personal message and serve wet or dry food — all controlled by your smartphone or tablet, of course.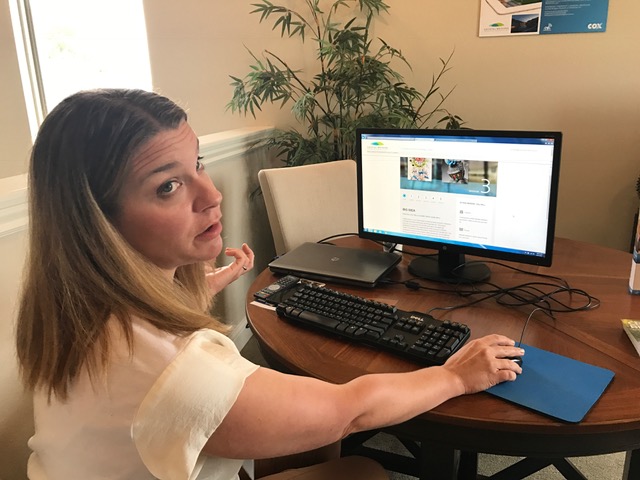 But that was just the tip of the smart iceberg. We were also intrigued by the "Parrot Pot", which gives your plant the right amount of water at the right time. It also monitors light, temperature, and soil/fertilizer levels in real time. Green thumb, guaranteed.
We were definitely happy to see a Mercy Virtual telemedicine appointment play out in front of us at the Smart Home. This is going to be huge for members of the sandwich generation (taking care of kids and aging parents). In other areas, where Mercy has 500 people enrolled already, there has been a 50% reduction in trips to the emergency room. That's an amazing stat. And they're bringing telemedicine to Arkansas late this year. Here's a look at the interactive appointment we got to see:
Our tour eventually led us to the kitchen, where we saw all kinds of gadgets to drool over. Whitney Bond, a food blogger and cookbook author from San Diego, was there baking cookies (they were sooo good, here's her nutella/chocolate chip recipe) and other treats. She played around with the WeMo Smart Slow Cooker which lets you adjust cooking time and temperature from your smartphone using an app.
Whitney also made some coffee in the Behmor Brewer, which is all about your personal tastes. You can tell it a pre-soak time, which temp you like and brewing time. The app texts you when your coffee is ready to drink. Of course, like all bloggers, she couldn't do all.the.things without a good strong Internet connection! Cox's Panoramic Wi-fi helped with that (it provides wall-to-wall Internet coverage at dazzling speeds).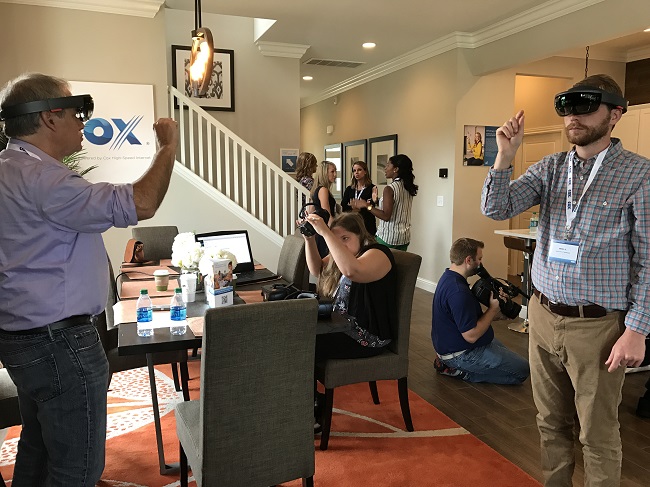 In the living room of this cool smart house, we shared our mutual affection for Cox Homelife. Homelife offers 24/7 professional monitoring, live HD video and smart controls (you can see who's at the front door, for example, or whether your kids got home from school ok) and you can even ask it to do things like turn the lights on at a certain time of night so the house won't be dark when you get home from work.
We also took a little tour of Cox Contour, which is basically the smartest remote we've ever met. It can help you get to your favorite TV shows and movies faster and easier with features like voice control (you can not only find the movie you want to see, you can just give Contour a few lines of the movie and it will magically find it for you!), predictive search, TV apps and more.
We also love the book that came to life through "augmented reality". Calm in Your Palm, an innovative children's book publisher, asked Trifecta Communications to incorporate digital features into their printed books. With these types of books, kids can enjoy interactive elements in what they're reading, but won't be pulled away from the actual book. So awesome! Here's a demo:
Save
Save
Seriously, there was SO MUCH MORE, but we can't share it all. Our thanks to Cox, Buffington Homes and all the companies who were there to show us how smart houses of the future can be.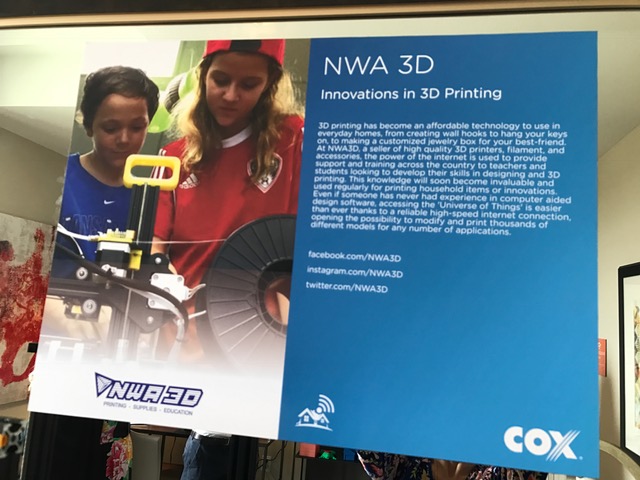 Save
Save
Save