By Andi Douglas, nwaMotherlode Beauty Editor and local mama of 3
Is anyone else freakishly aware of their families chewing habits at this point? This has always been a problem for me anyway. I sit on my own end of the table with my only approved quiet-eating child. So during the day when my husband is home (the worst offender),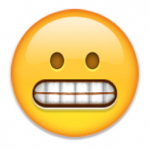 the tv is off and I'm already sweating over fifth grade math, God help the kid who hovers over my shoulder with a granola bar. This is deeply rooted in my generalized anxiety, and with everything so out of my control right now, my anxiety is gettin' real specific, y'all. These little nuisances can make me explode.
So sometimes it is necessary for mommy to go to a timeout in her bathroom, alone. But since I have officially read the entire internet at this point, I've taken to experimenting with all of the little beauty fads and tricks I haven't had time for before.
If you follow even one fashion boutique, you know that tie dye is making a huge comeback and I am digging it. Before I start dip dyeing all of my T-shirts, I thought I'd see how this trend is leaving its mark on the beauty world. I'm not a big nail art person but tie-dyed nails look perfect as we welcome more sunshine and warmer weather.
If you want to tackle this technique yourself using your collection of nail polishes, you won't have any trouble finding a how-to tutorial online. This tutorial was the simplest I found, but there are as many techniques as there are tie-dye options, so explore what works best for you. The one common factor I found was to start with a white base coat to make the colors really pop. Also, I have strong opinions on what people classify as "easy."
If your polish collection is full of muted mauves and deep jewel tones like me, an easily applied nail wrap might be a simpler way to add this 60s vive.
One of my favorite sets of tie-dye nail wraps I found are from Dashing Diva.
Although pricier, the multitude of options and bright colors might be worth getting a set of nail wraps from Zazzle.
And while I have you, does anyone know how to make tie-dye shirts that don't look like faded paper at the end?
Guys, I'm freaking out about this faux bang tutorial and plan on trying it myself if I ever wash my hair again. I used my 11 year old as a model because she let me, honestly. We had a little trouble with a stubborn part so opted for side swept bangs instead, but it was such a fun way to experiment with her hair. Here's a before-and-after photo once we completed the tutorial: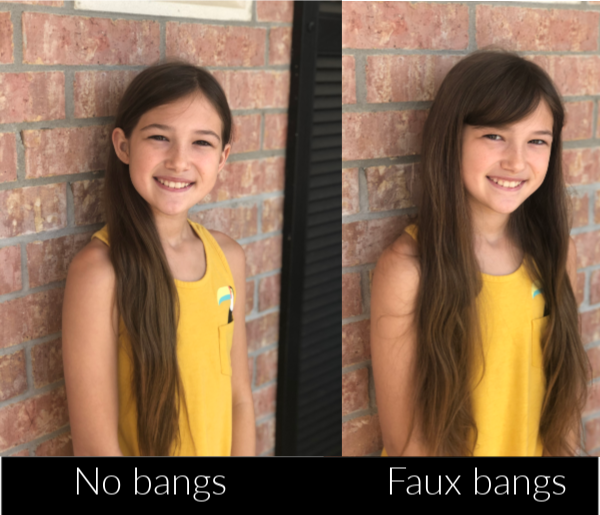 This mock fringe tutorial is more like the ones I've seen in the past. What I like about this one is how it maximizes root coverage by using the ends of your hair plus a headband and it incorporates my permanent messy bun. Here's how it turned out when I tried it on my daughter/model: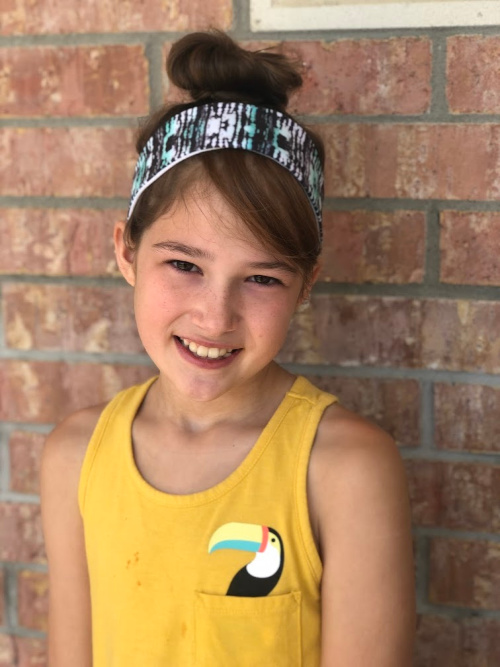 Now here's where I'm going to get real with you guys. We talk about waxing a lot and I already suggested you stay away from trying to shape your own eyebrows, but — while bored in my bathroom and examining every last inch of my face — I saw a dark, long nose hair with the audacity to curl outside of my nostril. Nope, that is NOT happening. I immediately jumped on Amazon and found the Nads Nose waxing kit. This was no "add to cart" situation. This was a "buy now" no-hesitation kind of purchase.
I received it this weekend but just had time to use it today with only seven interruptions by kids. The directions are simple: Microwave wax, dip the stick and stick it up your nose. One problem…my microwave is broken. With three kids. In a pandemic. So we've been without convenient cooking for a couple of months now.
On the plus side, my kids have learned to make all kinds of food using the oven or stove, and I'm now semi-confident they will not starve when they're out on their own. On the downside, the stove top double broiler method suggested by other users was not enough to get the wax really hot. I was able to use enough from the bottom of the container to deshag my nose, but I was not able to experiment more with the wax on the surface of my nose. Here's the good news, guys: This was as close to pain-free as any waxing I've ever tried. One quick yank and done. I don't even think my eyes watered.
As much as I like to joke and come up with fun ways to kill the time, this social distancing/quarantine has been a tough adjustment and not everyone has had the opportunity to stay in pajamas all day and play beauty parlor. I hope the gratitude being shown for our essential workers is an appreciation that will outlast this pandemic.
There are also those workers not considered essential that are missing paychecks as much as they are missing getting to use their craft. Remember to support your craftsmen and women during this time by buying gift cards to be used later or products for an at-home treatment. If you feel inclined, you can sign this petition to reopen salons on a limited, safety-conscious basis.
We're all in this together. Maybe a little too together some days, but it could be worse… it could be winter! You're doing a great job, mamas!
Got a beauty or hair question for Andi? Send it to us so she can write about that topic in an upcoming Beauty Buzz. Email it to mamas[at]nwamotherlode[dot]com. Click here to read more beauty posts by Andi.