Can you love your air-dried hair? With the right techniques, Andi says "yes you can," and here's how you can do it. Read on…
By Andi Douglas, nwaMotherlode Beauty Editor and mama of 3
Summer was a time for swimming pools, messy buns, sweaty hair and freak rain storms (especially when outdoor activities were on the agenda). If you're like me, you're not blessed with hair that will air-dry perfectly on it's own. A kid splashing you at the pool or an errant water balloon landing too close to the blow-out (that took you an hour) can quickly turn you into the no-fun, crazy mom.
Unfortunately, rain bonnets like our grannies used to wear are no longer in style. But on the plus side, people are learning to embrace their natural hair and a myriad of products designed to work with natural hair can help us live our best, stress free hair days.
This summer Glamour published a post about the best curly hair routines found on Reddit. Not only does the author Rachel Nussbaum have gorgeous curls, but she also has a lot more access to the suggested products (which got $$$), so it's a great read if you don't have time to wade through Reddit boards.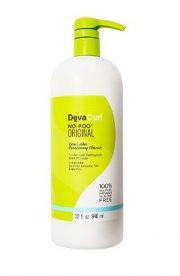 I have what I call "old perm" waves. Seriously, I got a perm in the fifth grade and it never left. So I'm always looking for ways to get these waves more wearable and out of a bun. I was excited to find some real-life reviews.
This wouldn't be a curly hair post without mentioning the DevaCurl routine. I'll never spend $50 for shampoo and conditioner because it's just not in my budget or my dna, but DevaCurl has been a long-time favorite of the curly crew. It has a huge following and some dedicated Facebook groups who can give you tips on the best way to use it. If you have particularly stubborn curls, it's definitely worth the investment.
Sadly, I'm unable to indulge in a lot of these regimens myself because of an allergy, so I used my tried and tested shampoo and conditioner from Renpure.(It's an amazing line of plant-based products; the body wash smells like heaven!). After washing my hair, I tried the "squish to condish" method tested by Rachel. It is a game changer!
I had to take several deep breaths and psyche myself up before I put conditioner on my roots, but now I'll never go back. I only shampoo once or twice a week and just condition on the other days to keep my hair from getting too dried out. This new routine also seems to be helping with my persistent dry scalp. The squelching sound was oddly satisfying and it left my waves soft and manageable.
I'm still trying to get the right curl cream routine down, and  I would've gone straight to Target to get one of the many varieties of Miss Jessie's curl-enhancing creams (if I wasn't allergic). If you've tried it, please tell me all about it so I can live vicariously through your amazing curls.
If you have straight hair and are craving some texture and volume but want to avoid the heat, try loosely braiding your hair when it's still slightly damp. Then twirl the braids into loose knots on top of your head and pin them. The knots will loosen the tightness of the braids, avoiding the 80s crimp. Putting them high on your head will help give you volume at your roots when you let them down. If some rogue strands didn't catch the wave, add a few casual braids for a beachy, boho look. You can add a lightweight mousse like Dove Curls Defining Mousse to dry strands to help the texture stick around all day.
Once you get the hang of these natural hair, air-dried techniques, you won't need to cower in the corner when kids are splashing. And you won't have to avoid working out because you don't have time for sweaty hair. You are now armed with a few tricks to get coiffed and out the door in record time. You may even find you prefer this low-key vibe of air dried hair, and you can actually say "I woke up like this" when people compliment your natural texture. I mean, no one will like when you say it, but who cares? You have fabulous hair!
Happy Back-to-School, Mamas! (Sorry teachers, but, man, we love you guys!)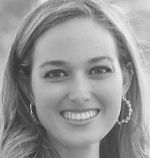 Got a beauty or hair question for Andi? Send it to us so she can write about that topic in an upcoming Beauty Buzz. Email it to mamas[at]nwamotherlode[dot]com