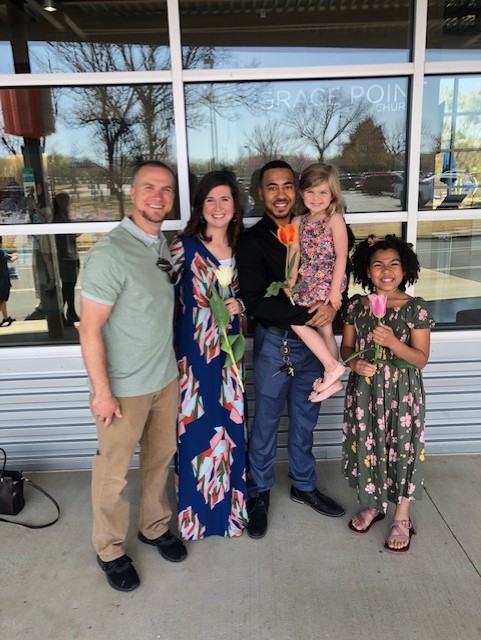 We got to know Kayla Crow when she was working as a nurse for endocrinologist Dr. Adam Maass. To know her is to love her! She is just so compassionate and kind. We were thrilled to hear about what she's up to now. (Spoiler: She switched from nursing to farming!)
Kids' names and ages: James-20, Olivia-9, Edith-5
What brought you to NWA?
After graduating college, I moved to NWA to work as a nurse and marry my now-husband.
Tell us the story behind your new endeavor, Mount Olive Farms: U-pick Flower Farm:
We have always dreamed of having a home with plenty of outside space but never really had a passion for farming until we moved to our home 3 years ago.
We found so much joy and peace as we started dabbling in gardening, starting our flock of chickens, and exploring the property. We started studying about regenerative farming methods and really fell in love with those methods of improving soil health, reducing waste and carbon emissions, and growing much of our own food.
The pandemic also really opened our eyes to how the local farm can provide so much sustainability within a local community and reducing stressors on our economy from a national and global perspective. We've learned that the key to a successful regenerative farming model is diversity so we are taking small steps to add and diversify the farm over time.
What are your plans for the farm going forward?
We are mostly focusing on the U-pick flower field this year, but we will be adding a high tunnel in the fall that we will use to grow more specialty flowers for wholesale and retail purposes. We're dabbling with the idea of expanding our produce offerings depending on demand.
As we diversify the farm, I would love to offer educational opportunities for the community to be able to show the flywheel of regeneration that happens in a well-rounded farm and how it changes our world for the better.
What inspired you to start the flower side of things?
As we were learning more about farming, we started dreaming of how we could best use our land to serve our community, promote sustainability, and just offer a peaceful place for people to enjoy the outdoors. We had also noticed that our NWA community loves to experience new things, especially U-picks and the idea of spending most of my days in a flower field just seemed to be the perfect fit!
Also, the industry of flower purchasing in NWA has been primarily sourced externally with only a few NWA growers popping up over the last couple of years. Hopefully over time, we and the other flower farmers in the area can help provide the community with nearly all locally sourced flowers.
Tell us about your nursing career:
I have been an Adult-Geriatric nurse practitioner for the last 5 years with most of my career as an RN and APRN in endocrinology. I have been doing some teaching for U of A recently as a clinical instructor as well.
Do you ever see any of your patients out and about?
YES and I love it!
What would be your perfect NWA day?
So tough! I'd have to say doing our usual farm and field check in the morning, then brunch at Louise at Thaden field, going to a show at the Walton Arts Center or TheaterSquared, and then drinks on a patio with close friends.
Name 3 things you have with you at all times:
The all natural beeswax lip balm that we make, blonde hair remnants from our golden retriever, and the bags under my eyes 😉
What's something funny your kids did recently to make you LOL?
We recently attended a "physique/body building" competition for the first time to watch my son compete and my 9-year-old daughter's wide eyes and belly laugh sent me over the edge.
What's something your friends might not know about you?
I'm a pretty open book, but see two questions down regarding my previous occupation aspirations. They likely don't know!
What's something you'd love to learn?
Piano.
What did you want to "be" when you grew up?
Real talk: when I was little, a dancer (I have zero formal dance training and little actual dance skill.) When I was a little older, a writer. How I got to nurse practitioner/farmer, I have no idea.
Who's someone you really admire?
My daughter's birth mother-crazy selfless, inspiring woman with a heart of gold.
What's been the most rewarding thing about motherhood?
Goodness, so many things. My journey in motherhood just feels like a joyous jumble of all of the words. Joy, grief, laughter, scary, difficult, easy, tears, smiles and any other emotion you can think of. But getting to mother my 3 is the greatest honor of my life. Seeing them grow into their own wonderfulness and navigate life with them is more than I ever expected.
How do you unwind at the end of a busy day?
Sitting on the patio with a glass of wine and watching our crazy crew play in the yard. It usually involves a rowdy combination of the kids, chickens, cats, and dog chasing each other while Penelope the pig watches jealously.
One word to sum me up: Awestruck