Note from the Mamas: With the Prairie Grove Clothesline Fair happening this weekend, we wanted to share the awesome story we posted last year about square dancing in Prairie Grove. Enjoy!

Mamas, do you know about the huge square dancing phenomenon in Prairie Grove? It's a tradition that runs DEEP there, so we wanted to find out more.
We visited with Natalie Bartholomew, the Girl Banker, who knows all the ins and outs, the cha chas and the rumbas.
Natalie's mother square danced from when she was a young child all the way up to the end of high school. That's her above with her group, "The Merry Mountaineers" when they were first starting out. Below is the group all grown up (Natalie's mom is the tallest girl, third from the left).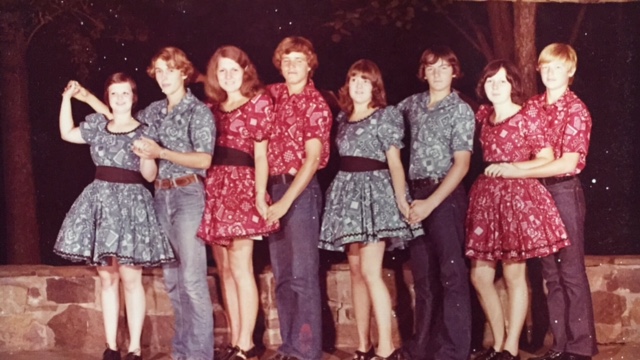 Natalie followed in her mom's dancing shoes, and her own young sons are already learning the choreography. Natalie's oldest, 4-year-old Brody, is already in a group, the Pistols N Pearls. Aren't they cute?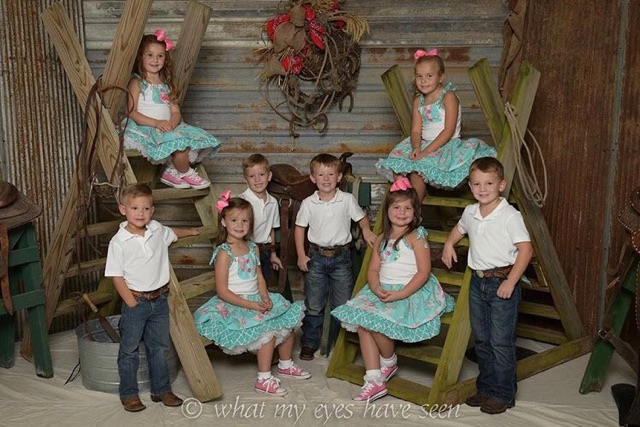 And here's a snapshot of the Pistols N Pearls (2018):
We asked Natalie a few questions to find out more about this wonderful Prairie Grove tradition. But before we get into the interview, we want to mention that you can watch the kids square dance Sept. 1-3 at the Prairie Grove Clothesline Fair, an arts and crafts festival.
There's a big parade to kick off the Clothesline Fair on Saturday morning (tomorrow, Sept. 1, starting at 9 a.m. at the Prairie Grove school and ending at the battlefield) and there will be square dancing showcases and competitions over the three-day event. The kids work all year for this, so you might want to go over, shop the clothesline fair and enjoy some square dancing. Natalie's parents are the Grand Marshals for this year's parade!

Here's the interview with Natalie for more square dancing scoop:
Is it true that both your sons had groups already forming while you were pregnant with each of them?
Yes! When I was pregnant with Brody, there were several other of my friends that were expecting at the same time. So naturally, in typical Prairie Grove fashion, we determined that they would be in a square dance group together!
Most of us are Prairie Grove residents with the exception of two, who have Prairie Grove ties. As for Witten, we have part of the group figured out but I am sure the rest of the group will come together soon!
How far back does square dancing go in your family?
My mom, Cheryl, and her sister, Charlotte, Prairie Grove natives, danced as children and later on "called" groups. The caller is essentially the "coach" for lack of a better term who choreographs the dance, teaches the group, then actually calls the dance to the group during the live exhibition.
My twin sister and I started when we were 4 in a group called "The Jumpin' Jelly Beans". The group lasted until we were in 8th grade but then fell victim to the loss of boys, which is a very common reason for groups falling apart.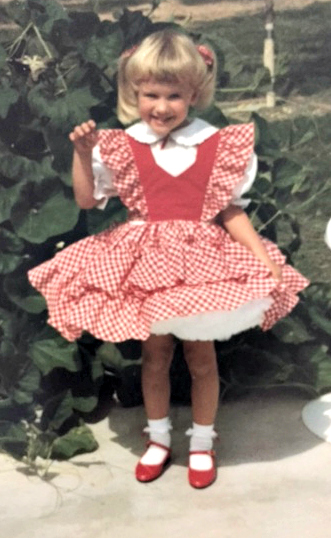 I started calling groups myself when I was 16 and did so until I was a junior in college. At one point, I had about 5 groups, all non-competition. It was a great way to make extra cash as I was usually paid between $100-$125 per group! Now that Brody dances, that makes 3 generations of Wests!
What about in your husband's family?
Colt's dad, Steve, also a Prairie Grove native, danced and called as well and his mom, Mary, who was the daughter of a retired United States Brigadier General and a "move in" to Prairie Grove, was picked up for a group as a kid and danced for several years. Colt and his sister, Brea, both started as 4 year olds and danced until they were seniors in high school, which is basically the longest you can dance. Brea also called groups.
How long has Prairie Grove been known for its square dancing?
Every Labor Day weekend for the past 64 years, the community of Prairie Grove has come together for the Clothesline Fair and the square dancing tradition was said to have started in the mid-60's as an initiative of the late Peggy Parks, a Prarie Grove and NWA philanthropy icon. Since that time it has grown to include the communities of Lincoln, Farmington and West Fork.
While the Clothesline Fair (which is an arts and crafts festival at the Prairie Grove Battlefield State Park organized by the Arts Center of the Ozarks) has slowly decreased in size, the number of groups and square dancers remains very strong and very competitive.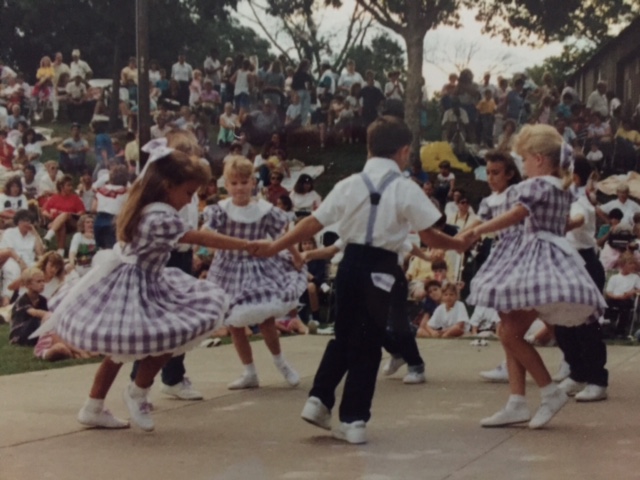 Can people from other cities participate?
Yes, while it is very much a Prairie Grove "thing", there are groups from Farmington, Lincoln, West Fork and some kids that participate in groups from Fayetteville and Springdale. As previously mentioned, these kids likely have parents with Prairie Grove ties.
Do most dance from age 4 all the way through high school?
Yes, unless the group falls apart.
Why do you think this tradition is so important to your hometown?
It's kind of "our thing". The Clothesline Fair is a part of who we are as Prairie Grovians and basically everyone takes part in it in some form or fashion.
The week leading up to Labor Day is usually the Washington County Fair in which most of our kids are involved, which runs into Clothesline Fair weekend, so we are all pretty wiped out. In fact, the Prairie Grove schools build in an extra day off for our students and faculty on the Tuesday after Labor Day so they can recoup. So everyone in town gets a 4-day weekend!
What are some of the most important "vocabulary words" in the square dancing world?
Promenade
Right and Left Grand
Get it get it get it go!
Partner
Where can the public watch the kids square dancing?
The Clothesline Fair starts the Saturday before Labor Day and runs through Labor Day, so it's 3 days. Kids 4-6th grade are exhibition only, meaning they don't compete and their dances typically last about 4 minutes. The 7th-12th grade groups are considered "competition" and the dances are capped at 10 minutes.
The groups dance on the Saturday of the Clothesline Fair and it's all exhibition, meaning no judges are present for the older groups. They usually start around 4 pm and dance through 10 pm. On the Monday of the Clothesline Fair, they dance again and the competition groups dance in front of judges.
The winners are announced at the end of the night and it's usually a very big deal. They are judged based on their outfits, technical skills, ability to execute the moves, crowd participation, etc. You'll see supporters (friends, family of the groups) show up in matching shirts, bring cowbells, it's insane!
There's a big parade to kick off the Clothesline Fair on Saturday morning. Most of the groups have a float, even some of the big kids, and the Prairie Grove cheerleaders, band, local tractor club, classic cars, etc. all participate.
Thank you, Natalie! We'll see you at the Clothesline Fair this weekend!
Save
Save
Save
Save
Save