Remember these famous names and faces? June Cleaver, Harriet Nelson, Claire Huxtable, Carol Brady, Jill Taylor, Roseanne, Debra Barone, Elyse Keaton, Mommie Dearest, Marion Cunningham, and Wilma Flintstone? All these fictional women have one thing in common — they are iconic mothers in American pop culture. Many of us grew up watching them raise kids long before we raised kids of our own.
Today when we stop by Magic 107.9 to visit with hosts Jennifer Irwin and Guy Westmoland, we'll be talking about some of these famous mothers in American pop culture and talk about what we learned from watching them.
We'll also take a look at how dramatically the roles of TV and movie moms have changed over the course of the last 60 years. (Think about June Cleaver and then picture her next to one of the Real Housewives of Atlanta. Big difference, huh?)
To join the discussion, turn on your radio about 7:25 to 8:30 or click on the graphic below to listen to the radio live on your computer.
Click on any of the links below to read articles we'll be discussing on the air today. We'd love to hear your thoughts on who your favorite "iconic mom" figure is and what you like most about her!
The History of TV Moms, from Biography.com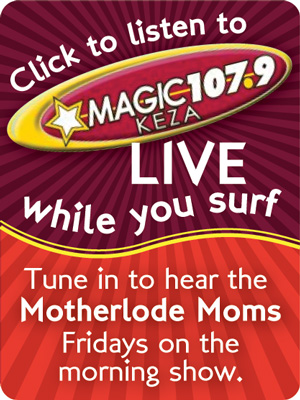 Save