Congratulations to Rosemary Rincon of Fayetteville, winner of the Great Date Giveaway!
Rosemary and her husband, Eduardo, will be dining at Bordinos Italian Restaurant next week followed by the show "Rain" at the Walton Arts Center. Because "Rain" is a tribute to the Beatles, we billed the evening a "I Want To Hold Your Hand" date.
I think it's safe to say Rosemary is ready for some hand-holding with her main man. Eduardo, a mens' assistant tennis coach at the University of Arkansas, is away for a championship at Texas A & M. She's been chasing 15-month-old Ana Maria around solo since Sunday.
Here's what Rosemary said in the comments:
"I love that my daughter always come first in his thoughts and cares. Sometimes I feel though that I am the third wheel and I would love a night with him to be "his girl again" for the night! Funny how having a daughter I think does this!"
The Rincons moved to Fayetteville last July from Alabama. Rosemary hasn't had a chance to sample Bordinos or Walton Arts Center  before, so she's beyond thrilled to have won the Great Date!
"This will be such a treat. We've heard great things about both," she said. "This summer we're looking forward to enjoying all the things we've heard about since moving here."
Congratulations, Rosemary!
For those of you who didn't win, you still deserve a night out with your husband (and judging from the comments, it sounds like there are some awesome husbands/dads out there!) Here's more about Rain:
The Denver Post calls this show the "next best thing to seeing The Beatles." RAIN includes a repertoire of nearly 200 Beatlemaniac favorites like "Yesterday," "Hey Jude",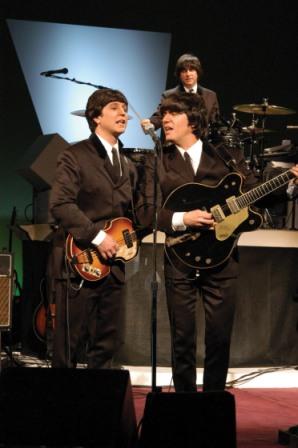 "Revolution" and "Come Together." The show follows the FAb Four from their first Ed Sullivan Show appearance through the Abbey Road album and into the late 60s with their long-haired hippie, hard-rocking days. RAIN is a multi-media, multi-dimensional experience, fusing together historical footage, hilarious TV commercials from the 60s and live cameras zooming in for close-ups.
The band is very faithful to The Beatles by focusing on the details and delivering a perfect note-for-note performance. All the music is live, with no pre-recorded tapes or sequences. If you're a Beatles fan or are married to one, this is the show to see.
For more information about RAIN, click here to go to the Walton Arts Center website and read more about it.