Sometimes when you're a busy mom, it's the little things that drive you nuts. And one of the things that used to drive me nuts was trying to keep tissues in the car because someone ALWAYS needs a tissue while I'm driving. It's usually one of these scenarios:
"Mom, my nose is running."
"Mom, I need to spit out my gum. Where do I put it?"
"Mom, my juice spilled."
"Mom, my scab started bleeding."
"Mom, my Chick-fil-A barbecue sauce just got on the seat."
I could list about a zillion other reasons, but you get the idea. (Sometimes we mamas need a tissue, too, to blot our lipstick or clean up the smudged mascara under our tired eyes.) The problem with keeping tissues in the car is that the tissue box always ends up getting sat on and crushed. One time I even made a tissue box container from an idea I saw on Pinterest. It worked pretty well to keep the box intact, but the container was always floating around the car and never seemed to be where I could reach it while I was driving.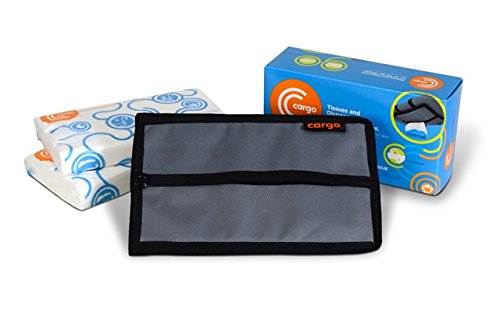 So… you can imagine how hopeful I was when Caitlin O'Connor emailed us about her invention that keeps tissues in the car and within arm's reach. As a mom to FOUR boys, Caitlin also needed to be able to get to tissues quickly while driving so she invented her own holder that attaches to the sun visor. It's called the Cargo Tissue Dispenser and it comes in charcoal grey or an oatmeal color. It's available on Amazon for $9.99 and comes with two tissue packs. (SEE BELOW for an opportunity to WIN one of these dispensers!)
We agreed to try out the Cargo Tissue Dispenser for a few weeks and see if it solved the problem. I'm happy to report that this thing WORKS. Finally, no more scrambling around in the car to find a tissue or a fast-food napkin. I just reach up, pull one out of the dispenser that's attached to my sun visor and hand it to whichever of my three kids needs one.
The best part? I'm not distracted from the road and looking around the car anymore to find one. This ingenious little dispenser is making me a better, safer Mom chauffeur.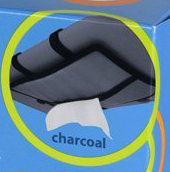 Important note: What makes this dispenser so clever is that it attaches to your sun visor but it does NOT block you from using the vanity mirror on the visor. (I've used my car mirror to do my makeup more times than I can count, so it was very important to still have access to that mirror.)
I also like that the dispenser itself is made from a nice canvas-like material and the straps that go around the sun visor are stretchy but also strong. You can tell that this dispenser was made by a fellow mom who pays attention to detail and wants it to look nice — not cheap. The tissue packs slips into the dispenser easily and there's a closure to ensure it doesn't slip out.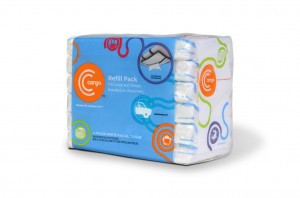 The tissues themselves are soft enough so that they don't feel scratchy on a runny nose, but they are also substantial enough to be able to handle the occasional drink spill in the car. That's a big plus. (You can buy refills for the dispenser that come in packs of 6.)
When you first put in a new pack of tissues, getting the first tissue or two out of the dispenser (without tearing it) can be a little tricky, but I managed to do it by pulling the tissue out slowly. After the first one or two tissues came out, the rest of them dispense smoothly and easily. If it bothers you to have the next tissue peeking out of the dispenser, you can just fold it back into the opening, like I do.
HOW TO WIN ONE: Since we've solved our own car tissue dilemma, we want to share the love with our readers because we know that, just like us, you're probably spending a lot of time in the car. (Did you know that Americans spend an average of 540 hours in the car each year, which adds up to almost a full month of your life? Wowza.)
To throw your name in the online hat to win a Cargo Dispenser and two tissue packs, click the words "post a comment" below and tell us what keeps you in the car the most. (The drive to work? Picking up and dropping off kids at school? Driving to the kids sports' practices and games? Running errands?) Five readers will win a Cargo Dispenser plus two refill packs. (Winners are always chosen at random.) 
You can also email your answer to us at giveaways@nwaMotherlode.com.
HOW TO INCREASE YOUR ODDS: Help us spread the word about the giveaway by emailing your friends and family about it. (They might want to win, too!) We'll give you an extra chance to win for every person you tell. Just be sure to put giveaways@nwaMotherlode.com on the CC line of your note so we can give you proper credit.
(You can also earn an extra chance to win by signing up to receive the free email newsletter we send once a week. Click here to sign up.)
BE SOCIAL: You can also earn extra chances to win by commenting on our Facebook page, following us on Twitter or following us on Pinterest. If you do any of those, just mention it in your comment or email so we can give you proper credit.
Good luck! We'll choose FIVE winners at the end of the week and email the lucky moms.
Note: nwaMotherlode was not paid to write this review or to conduct this giveaway. We received one sample of the dispenser to test and keep as well as four samples to give to readers. (If we didn't like it, you wouldn't be reading about it here.) As always, the opinions expressed in this post are completely our own.
Save