If you're a new (or new-to-NWA) mama on the hunt for things to do with your baby or toddler in Northwest Arkansas, here's a big list to help you find some fun together.
Click on the name of the activity to find out more about each: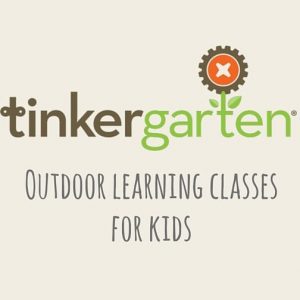 Tinkergarten: A local mama who offers Tinkergarten is holding a Fall 2019 Babies Class for babies 6-18 months. There will also be regular Tinkergarten classes for 18 months-8 years old.
Each season has a focus skill and participants can earn a badge for completing the season. Each class for 18mos to 8year olds includes five parts: opening activity, circle time, main activity launch, main activity, and celebration/snack. Each week has a nature theme based around a book or recurring activity, all linked to the joys of nature. Materials are provided by leaders, and playful learning is the goal.
As of summer 2019, there's a new leader in Fayetteville and one in Rogers/Bentonville, so that gives families more class choices. The main link is www.tinkergarten.com/classes and visitors can type in their zip code to find classes.
Free Forest School of Fayetteville.Forest School of Fayetteville is a free group, open to young children and their parents or caregivers. This is a welcoming and non-judgmental group where parents and caregivers can practice giving children space and autonomy to explore and create in nature.
Free Forest School of Fayetteville meets weekly throughout the year at nearby wilderness areas. Share a snack, take a hike, play in the woods, and have circle time. Parents get a chance to unplug and step back. Kids and their imaginations take the lead.
Crystal Bridges Babies. For infants ages 3 to 24 months with a caregiver. You'll spend time in the galleries looking at and talking to your baby about art before enjoying sensory playtime. Visit new artwork and make new discoveries together each month. Make sure you are able to hold your baby or have them in a front carrier; they need to see and physically react to the artworks. This is a time to bond with your baby, so CB asks that you make other arrangements for siblings. $10 ($8/members), register online or with guest services.
Tots and Tales for Toddlers at Crystal Bridges. This is a class for toddlers at the museum. The same class is offered on both Wednesday and Saturday—you choose which day works best for you. For ages 1.5 to 3 with an adult. $10 ($8 for members).
Tunes 4 Tots. This is a new parent-child music program being offered in Bentonville. The program teaches children about music through movement. Shakers, rhythm sticks, bubbles, and more are involved. This is a once weekly class during an 8-week session. Classes are broken up by age: 0-18 months and 1 1/2 – 3 years. $10 a class
Jubilee Music. Jubilee is a Music Together center in Rogers and offers classes for birth to age 5. They occasionally have free music classes and you can always take a free trial class.
Altitude Trampoline Park. This new trampoline park in Fayetteville will have "Toddler Time" from 10 a.m. to 1 p.m. Monday through Friday. Kids ages 2-6 can enjoy all the fun together for just $10 (covers parent + toddler).
Little Sprouts. Little Sprouts is the Botanical Garden of the Ozarks' story & activity time for babies, toddlers and preschoolers and their parents. The 30 minute sessions are at 9:30 & 10:15 on the second Wednesday morning of every month at BGO in Fayetteville. (On chillier mornings the program is held indoors.) View the schedule here. Little Sprouts is always free for garden members. Regular garden admission prices for non-members: Adult: $7; Children: $4 (ages 5-12); Free for children under 5
The Amazeum. This awesome children's museum has exhibits that are designed to promote imagination and creative thinking for children and families of all ages. There are two spaces dedicated for toddlers 2 and under, but there are many others they would enjoy seeing. The museum has special "Priceless Nights" on Wednesdays from 4-7:30 p.m. which are donation only so you can take the kids for less $.
The Little Gym of Rogers. The Little Gym has some fun "Parent and Me" classes if you want to enjoy some tumbling/play time with your little one (ages 4 months to 3). There's also Kindermusik at this location for tiny babies all the way up to 5 years old.
Hopes & Dreams Gymnastics. This gym in Springdale has Parent & Me Classes (18 months to 3 years and fully potty trained.) These classes are held in an area separated from the main gym where babies/toddlers can begin to develop gymnastics skills in an environment specific to their needs.
Kaleidoscope Dance Academy. Kaleidscope in Bentonville has Mommy & Me classes for boys and girls ages 1-2. Toddlers can learn basic movement and dance with their play partners. All caregivers are welcome to join in on the fun and will learn teaching techniques to take home to incorporate movement and playtime all in one.
Fast Lane Entertainment. Fast Lane in Lowell has a giant indoor "Climb Crawl and Slide" Play Structure for kids 12 and under. The bottom section has a play area that's just for toddlers to enjoy. You can purchase an unlimited, all-day pass is $8. They also have a "Climb and Dine" special from 11 a.m. to 2 p.m. daily for kids to play on the indoor Play Structure and eat lunch (from the kids menu) for $8.99.
Library story times. Babies and toddlers will love story times at one of the fabulous local libraries in Northwest Arkansas.
Splash Pads & Swimming Spots. There are several indoor and outdoor options in Northwest Arkansas. Many have special areas just for babies and toddlers. When the weather's warm, visit one of the water parks or splash pads which have special areas just for littles (or swim lessons with parents): Springdale Aquatics Center, splash pad at the C.L. "Charlie" and Willie George Park in Springdale, Rogers Aquatics Center, Skate and Splash Park in Rogers, Splash Pad at Lawrence Park in Bentonville and the Jones Center in Springdale. A new splash pad is being built at Walker Park in Fayetteville. You can can swim inside at The Jones Center in Springdale, the Boys and Girls Club in Fayetteville, the Rogers Activity Center and the Bentonville Community Center.
Join a local mom's group. Mamas need other mamas! Look at item #2 on this list for some great mom groups in Northwest Arkansas.