Panera Bread bakery-cafes in Fayetteville and Bentonville will host a week-long fundraiser called "Kids in Knead" to raise money for Samaritan Community Center's SnackPacks for Kids program starting today (running June 22-26).
You can help by printing off THIS FLYER flyer (or just showing the below flyer on your mobile phone to the cashier at checkout) when you eat at Panera Bread this week (June 22-26).
Over 7,500 children in 120 NWA schools and Head Start centers receive a snack pack every Friday during the calendar school year. During the summer, the packs are distributed through summer school lunch programs, church lunch programs, Samaritan Community Center cafes and other public venues. SnackPacks for Kids is funded by donations from individuals, businesses, corporations and area churches.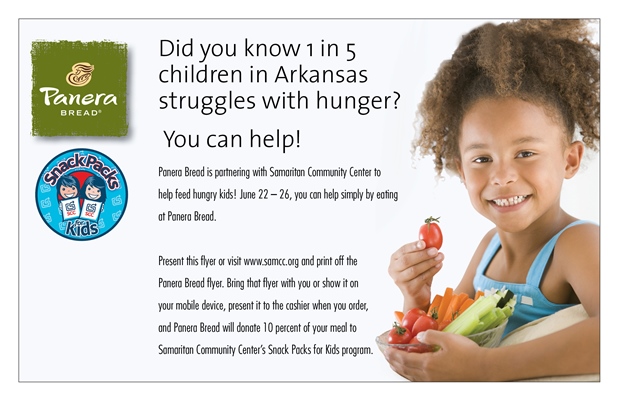 Here's how Kids in Knead works this week:
1. Either download this flyer to your phone, or show this page on your phone with the flyer visible.
2. During the week of June 22-26, show either the paper flyer, or a downloaded version on your cell phone to the cashier when ordering, and 10% of your purchase will be donated to SnackPacks for Kids.
The Fayetteville Panera Bread is located at 3638 N Front St. and the Bentonville location is at 1320 SW Walton Blvd.
Thanks for helping feed Northwest Arkansas kids!