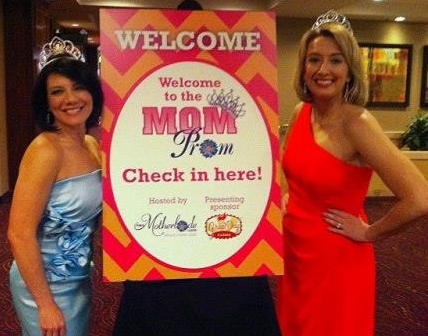 Hi girls! We are SO pumped that you're coming to the first Mom Prom in Northwest Arkansas. It is going to be AWESOME. Here's what you need to know for the big night.
When you arrive at the

Springdale Holiday Inn

, park in the main lot and head in through the entrance facing the parking lot (not the covered entrance that faces Marketplace.) Honda is one of our Prom sponsors, so look for the Honda minivan and CR-V with balloons that will be parked by the Prom entrance.
Once you're inside, turn right and you'll see the

Prom check-in desk

. We'll have volunteers there with a check-in list that contains the names of people who purchased tickets. If you bought a group of tickets, just let us know who is in your group. You can bring your email ticket purchase confirmation with you, but don't worry about it if you forget. We'll have a record of your purchase.
Do you need to go

eat dinner

before the Prom? Nope, not necessary. We'll have lots of heavy appetizers like coconut chicken bites, miniature twice baked potatoes, spinach artichoke dip, turkey pinwheels, fruit, cheese, and just wait until you see the dessert table. Come hungry, ladies. You'll dance it all off anyway. 🙂
Don't forget to check out the

raffle tables

at the Prom. We have 15 packages of items, with more than $5,000 in prizes! Each package has its own theme, like "Pampering," "Date Night," "Branson Getaway," "Razorback," "Bling," etc. Raffle tickets are only one dollar each and you can buy extras at the event, if you like. You can throw as many tickets as you want into the various buckets to increase your chances of winning the packages you like best. (Raffle money goes to a local charity called Laundry Love, which partners with laundromats to help wash clothes for people living in poverty.) We'll announce raffle package winners starting at 9 p.m., and you'll need to be there to get your prize so you can take it home.
You'll have your photo made at the

"red carpet arrival"

area inside the hotel and also in the photo area, sponsored by

Lisa Mac Photography

. Lisa and her husband Glen will be there snapping photos, and ALL photos will be available for free download after Prom. Instructions for how to download your pics will be in your swag bag. We have lots of fun props to use, too!
If you want to stretch Prom night into a slumber party at the hotel, you can! Just book a

hotel room

by calling 479-751-8300 and mention the Mom Prom to get a discounted room rate of $89.
The DJ's name is Frankie, and he takes

song requests

. 🙂
That's it! You're all set! If you want to invite more friends to the Prom, we'll have tickets for sale at the door for $40.