By Gwen Rockwood, syndicated columnist and mama of 3
When it comes to what I eat, there's one rule I almost never break – no food in my food. Simply put, it means I don't mix things. Gravy and mashed potatoes are about the only two substances I allow to co-mingle on a dinner plate.
I typically eat one food at a time and then move to the next food on the plate. It's boring, I know, but it works for me. I reject the theory about how different foods "mix together in your stomach anyway." Perhaps they do, but by the time the food hits my stomach, my taste buds don't have to know about it.
My husband Tom, on the other hand, has almost no rules when it comes to food. He'll mix and mash things together with reckless abandon. Avocado on tortellini? Sure. Corn mixed into mashed potatoes? Absolutely. Frozen peas stirred into seafood chowder? Sounds great. He's like Mikey from the old Life Cereal commercial. He'll eat anything.
But yesterday I ate something that made me rethink my rigid rules. Maybe food fusion is not always as weird and wrong as it has always seemed.
I spotted it across a crowded grocery store aisle – Oreo Fireworks, just in time for the Fourth of July. If you're a child of the 80s like I am, the best way to describe the product is this: If Pop Rocks and Oreos had a baby, it would be called "Oreo Fireworks."
I loved Pop Rocks as a kid, and Oreos are still the gold standard of cookies, but I honestly couldn't imagine how the two could come together. Curiosity and commitment to journalistic research demanded I buy a package.
When I tried one, the year 1985 came rushing back in a single bite. The cookie crackled and popped as I chewed. The crème white filling mixed with popping candies created cinematic special effects in my mouth! I could hear and feel the tiny explosions, which left me wondering if I was eating a cookie or an edible sparkler.
I called the kids into the kitchen to get a second, third and fourth opinion. They seemed dubious at first but were willing to give it a shot. After they crunched through the first few bites, they stopped mid-chew, let their mouths hang open and said "Cool! Can you hear it popping, Mom?"
Indeed, I could. It's the only time I've let them chew with their mouths open.
While I admit that Oreos laced with popping candies might be a food mash-up that works, not all unions turn out so well. Even though I'm a fan of macaroni and cheese and Cheetos, I balked at the sight of one stuffed inside the other when I saw Burger King's television commercial for "Mac n' Cheetos."
And what was Pizza Hut in Australia thinking when it stuffed its pizza crust with hot dogs and then topped it with mustard and ketchup?
But I suppose it's good that people experiment with what to eat and how to do it. At some point, peanut butter and jelly probably sounded like an odd idea, but now it has become a symbol for things that work together perfectly.
Nabisco is encouraging more food fusion in a contest called "My Oreo Creation." Creators can suggest new flavors for the iconic cookie by July 14th, and the winner will get half a million dollars. The ideas are pouring in via social media, with suggestions like Funnel Cake Oreos, Krispy Kreme Oreos and even Sushi Roll Oreos.
While I may have relaxed my food rules a little to allow for a cookie that pops, I'm begging you, Nabisco. Please don't put sushi in my Oreos. Some things are just plain wrong.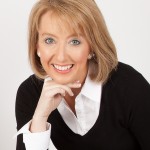 Gwen Rockwood is a mom to three great kids, wife to one cool guy, a newspaper columnist and co-owner of nwaMotherlode.com. To check out Gwen's book, "Reporting Live from the Laundry Pile: The Rockwood Files Collection," click HERE.
Save
Save
Save
Save
Save
Save
Save
Save