By Gwen Rockwood, newspaper columnist and mama of 3
I'm a planner by nature, so I understand the need to "get out in front" of something. But when I opened the Target sales circular this Sunday, the only words that came to mind were these: "This is ridiculous."
Two pages past the Valentine's Day candy, there it was – a splashy double-page spread of models in swimsuits. Swimsuits! In January! The Christmas fruitcake hasn't even had time to get moldy yet, and already they're pushing stringy two-pieces for her and Hawaiian board shorts for him. In the wise words of my elementary school crossing guard, "Slow down, people." What's the rush?
Perhaps I'm missing something. Has it become a tradition to watch the Super Bowl in beachwear? Am I the only one who's not shopping for a new swimsuit to take on a mid-winter tropical getaway? Or are we expecting an unusual February heat wave that's gone unreported on the news?
Don't get me wrong. I like a cute swimsuit as much as the next person. When the time is right, I'll be happy to make peace with my jiggly bits, wriggle into something stretchy, and float into summer. But until then, why are these retailers trying to ruin the only time of year we're allowed to hide the extra Christmas cookies under an oversized sweater?
This is the time for boots, not bikinis. We need fleece, not flip-flops. Even the Bible says "to every thing there is a season," so I'm fairly certain even God would agree it's a wee bit early for swimsuit promotion.
The only "spaghetti straps" I want to see this month are a mound of noodles on my dinner plate, covered in a generous amount of meat sauce and accompanied by a golden slab of garlic bread.
If retailers have their way, the famous groundhog will probably emerge from his hole on February 2nd wearing a push-up, padded bikini top and sunglasses. He'll forget entirely about checking for his shadow because he'll be anxious to show off his bikini briefs and matching beach tote bag.
If you ask me, I think this sneaky swimsuit promotion is more of a doubling-down on the fitness equipment stores have been hyping since New Year's Day. On the page right past those swimsuit models with their washboard abs, there was an attractive sale on free weights and yoga mats. Coincidence? I think not.
During January, you can sell me leftover Christmas decorations during a half-off sale, and I will squirrel them away until Thanksgiving. You can sell me discounted sheets and pillows, and I will gladly snatch them up for a nice "long winter's nap." You can even sell me those colorful free weights and yoga mats, which I will have every intention of using on a daily basis, whether I actually do or not.
But don't try to sell me June in the middle of January. It's like trying to talk me into a jack-o'-lantern on Valentine's Day. It's weird and unsettling.
Let me and my fellow oversized sweater lovers walk through our winter wonderland until March, when we begin to sense spring on the horizon. Then we'll drag out those dusty free weights and yoga mats and deal with reality.
But until then I, for one, will resist the retail rush. I refuse to be pressured into picnic supplies or prematurely seduced into shorts and sandals. There comes a time to draw a line in the imaginary sand and say: "I will buy no bikini before its time."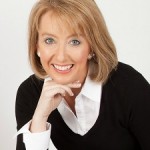 Gwen Rockwood is a mom to three great kids, wife to one cool guy, a newspaper columnist and co-owner of nwaMotherlode.com. To read previously published installments of The Rockwood Files, click here. To check out Gwen's book, "Reporting Live from the Laundry Pile: The Rockwood Files Collection," click HERE.
Save
Save
Save
Save
Save
Save
Save
Save
Save
Save
Save
Save
Save
Save
Save
Save
Save
Save
Save
Save
Save
Save
Save
Save