Dear Inside His Head husbands,
My mother is planning to move in with us soon — for a while. My father passed away recently and she's going to stay with us so she can get her finances in order and deal with her grief. My husband is worried about our family dynamic. It's just a big change. What can I say to help with the transition?

MICHAEL: The first thing I hope you can say is that you've discussed with your mother exactly how long this arrangement is going to last and that you've talked about ground rules for life at the house.
Because it's your mother you're going to be the proxy for all disagreements and snide remarks. Be prepared to deal with it. It's understandable that this type of thing happens, however, it doesn't sound like it's been planned for so the best thing you can do is anticipate what the challenges will be.
Examples are things like:
♦ Your mother doesn't hear well so now the television has to be turned up all the time.
♦ You watch what your kids eat very carefully and your mother questions your choices in front of them.
Just having another opinion and voice around the house will make it stressful. You've got to make sure that you're not consistently siding against your husband. Remember you've got to put with him forever. Your mother hopefully only for a short while.  Make sure he knows you realize that.

MAVERICK: I'd tell him in the nicest way possible that there's no sense in worrying about something until an actual problem occurs.
If you mother is overbearing or generally a pain in the butt or objects to your husband breathing air or thinks him a fool, well, you or more accurately he, is hosed. But since your husband agreed to this arrangement, I can assume either he likes your mother or he's a good son-in-law, or really just a decent guy trying to help here.
The main way you can calm his fears about your mother messing with the family dynamic is not to let her mess with the family dynamic. She's your mother, so she's yours to deal with where conflict is concerned. He's the son-in-law, which gives him less power in the relationship than a bum off the street.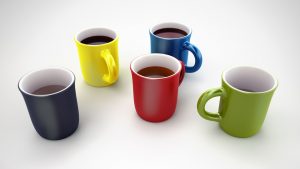 ♦ The best way to avoid trouble with the new situation is to head it off.
♦ Make your mother feel welcome, let her pitch in and help, be there for her, be kind, be supportive, be family.
♦ Don't let her take over your house, determine your family routine, decide what you eat or where you go or undermine your husband's authority in his own home.
If she likes certain TV programs, get her her own flat-screen for her room – they're not super expensive now-days and this ill will avoid conflict. Most of us guy-types can relinquish control of the remote when needed or on short trips to visit family, but don't expect us to do it for an extended period of time and in our own living rooms.
If she becomes critical of your husband, nip it in the bud. Your mother is in a less than happy place and needs support but she doesn't get to bad-mouth your spouse. If it starts, you have to tell her to stop. It's your place. Fight the dynamic that says your mom is always right. Your husband does not deserve to be ganged up on.
And remember, even with your mom in the house, he's still your husband.
Don't let the new arrangement turn you into your mother's daughter at the expense of being your husband's wife. Turn things to your advantage. Let mom watch the kids so you can go out on a date or a romantic mini-vacation. Spend time together.
In short, give your mother a place in your home but don't let her make herself comfortable at the expense of your husband's peace of mind or your relationship. This could be a great time for your husband and your mother to become close.
He's being a decent guy for opening up his home. Don't make him regret it.

GRAY: "We'll get a cat…because your mom is deathly allergic. That way she can't move in," would likely be my wife's remedy to the issue should we face a similar situation.
We're not a culture that's used to living with extended family and it can be a mess. The best thing is to get your husband's worries addressed before the situation turns into a bundle of frustration, before your mother even arrives.
I would be worried about never having privacy, always turning around and finding her there, perhaps thinking I'd like to hear the 2-hour story of the summer she grew a pumpkin for the county fair.
So set some boundaries. Maybe meals are family time, but after the last meal of the day it's understood that everyone gets some alone time, completely uninterrupted. You get the idea.
But what if mother says, "Well, I'm so comfortable here. What if I just stayed? Would that be so bad?"
The thought of having an in-law transition from temporary to permanent would push many husbands right off the edge of the cliff (and, no, that's not just a figure of speech) but it's easy enough to allay. Put a timeline in place. It doesn't have to be meticulous, but don't let "three months" become "some day." Always move forward and don't let a setback derail the whole works.
The most difficult issue would be personality conflicts. Does your husband fear hearing "my daughter used to date that nice boy before she met you…he's a doctor now" or some kind of continual drone about how he'll never be good enough? You may need to play referee for a while and make sure his head doesn't explode. Just keep reminding him it's only temporary.
Finally, having you on his side can carry a lot of clout. Let him know that if things don't go as planned you'll buy that cat she's allergic to ensure she's heading out the door.