By Gwen Rockwood, newspaper columnist and mama of 3
When I turn out of my neighborhood and get to the first stoplight, I have to choose.
Turn left and I run smack into road construction. Traffic slows down and a man on the road crew holds up a sign telling me to stop. When he waves me through, I idle down the rough road crowded on both sides by orange barrels and tall mounds of red dirt. I steer around bumps in the road, and I wince when my tires hit breaks in the pavement.
Turn right and it's more of the same. Earth-moving machines putter along the long stretch of construction, kicking up a daily dust storm. I hold my breath as I squeeze past other drivers on the only sliver of road left in the midst of construction chaos.
Like most drivers, I'm aggravated because construction began right before the kids went back to school, making those main arteries even more congested on busy weekdays. The inconvenience seems to outweigh any noticeable progress.
But last week, as I groaned about the traffic bottleneck, I tried to see it in a new light. For those who use it regularly, is there ever a convenient time for a road to be under construction? Probably not.
And perhaps I don't notice progress being made on the road because I live so close to it and see it daily. It's like raising kids. My teenager looks the same to me when I see him every morning over breakfast, but when we bump into friends who haven't seen him in a while, they all marvel at how much he's grown and changed. Progress has been made, regardless of whether or not I saw it happening.
Maybe the messy, bumpy roads bother me because they remind me of parts of my own life that are "under construction." For the past two years, I've been trying to learn how to write fiction. So far, my first draft looks even worse than those torn-up roads. I'm wading through a manuscript chock full of rough spots and wrong turns. The work is slow, and at times I wonder if it's going anywhere.
The thing that keeps me going is the third road that leads away from the stoplight I mentioned earlier. If I don't turn left or right and instead drive straight, I coast down a smooth, open road with wide shoulders and a roomy turn lane. It's one of my favorite roads because it leads to the best place to get hot waffle fries and sweet tea – a proven source of inspiration for any writer.
The smooth, wide road didn't always look that way, however. A few years ago, it, too, was under construction. Progress crawled and then stalled. Looking at it now, you'd never guess it was once a mangled mess with a one-lane bridge and delayed, angry drivers shaking their fists at each end.
Little by little, the workers built a better road. Whichever parts of my life and your life that are now "under construction"? They'll get better, too.
Part of our brain tells us to avoid it – the mess, the hassle, the uncertainty. But there's another part of us that wants us to keep going – to learn, to create, to make things better than they were before.
So we keep grinding away in the hope that, one day, the snail-like pace will be worth it. Just like the new road, our own projects will turn into something recognizable and maybe even useful and beautiful. We just have to keep working and wait for the construction dust to settle.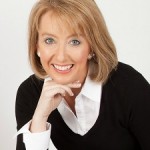 Gwen Rockwood is a mom to three great kids, wife to one cool guy, a newspaper columnist and co-owner of nwaMotherlode.com. To read previously published installments of The Rockwood Files, click here. To check out Gwen's book, "Reporting Live from the Laundry Pile: The Rockwood Files Collection," click HERE.
Save