Hi mamas! Hope you had a wonderful Christmas yesterday.
This poem, 'Twas the Day After Christmas, is featured in the book, "Reporting Live from the Laundry Pile: The Rockwood Files Collection," which you can find on Amazon. (Available in paperback or Kindle version.) Enjoy!
'Twas the day after Christmas and all through the house
Not a creature was resting, not even a mouse.
Crumpled paper and boxes were heaped by the door
in hopes that the trash men might take a little more.
The children were running and jumping with glee.
It was the day after Christmas. They had new toys, you see.
And Mom in her sweatshirt she bought at the Gap
knew it was highly unlikely the children would nap.
When in the guest bathroom there arose such a clatter,
we sprang from our sofa to see what was the matter.
Away to the noise we flew like a flash.
Had someone fallen? Did a finger get smashed?
When what to our sleep-deprived eyes should appear
but a wide-eyed toddler shedding real big tears.
He had stood by the toilet and then in a rush,
he pitched in small toys and gave a quick flush.
He panicked and hollered, so quickly we came,

and he stood there and cried while he called them by name:

"Oh Hot Wheels! Oh Sponge Bob! Oh Care Bear! Oh Doggie!"

None of them could swim and were all getting soggy.

From the tiny red race car to the square yellow doll,

they swirled away, swirled away, swirled away all!
Thought it might cost more than a brand new Hummer,
we had no choice but to call in a plumber.
As we consoled our toddler and were turning around,
down the driveway the plumber came with a bound.
He was dressed all in denim from his head to his feet.
It was beginning to snow and he was covered in sleet.
A bundle of tools he had flung on his back,
and he looked like a peddler just opening his pack.
His eyes how they twinkled! His smile how merry!
From the patch on his shirt, I knew his name must be Larry.
He said not a word but went straight to his work.
He extracted the toys and then turned with a jerk.
We apologized for the work but he said it was fine.
After all, it was Sunday — he'd be paid overtime.
He said he loved kids and bent over Baby Jack
and despite what you've heard there was no plumber's crack.
A wink of his eye and a twist of his head,
he gave me my invoice and there was nothing to dread.
He climbed in his pick0up and started it up.
He backed down the driveway with his red coffee cup.
But I heard him exclaim as he drove through the mush:
"Happy New Year to all, and don't let that kid flush!"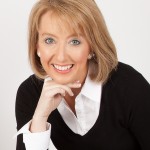 Gwen Rockwood is a mom to three great kids, wife to one cool guy, a newspaper columnist and co-owner of nwaMotherlode.com. To read previously published installments of The Rockwood Files, click here. To check out Gwen's book, "Reporting Live from the Laundry Pile: The Rockwood Files Collection," click HERE.
Save