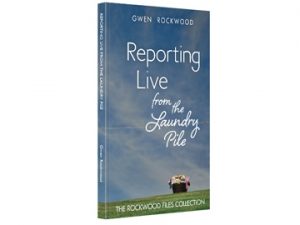 Happy Saturday, mamas! If you're planning to swing by the Northwest Arkansas Boutique Show today (located in the NWA Convention Center in Springdale), be sure to stop by the nwaMotherlode.com booth between 9 a.m. and 6 p.m. We'll be there showing off the brand spankin' new washer and dryer set that we're giving away on the website right now. If you enter the drawing in person as well as online, you'll get an extra chance to win.
And I'll also be signing copies of my new book at the show, too. It's called "Reporting Live from the Laundry Pile: The Rockwood Files Collection." It's a compilation of my best newspaper columns over the past 16 years. If you're married or have kids or just like to laugh now and then, it's your kind of book. :-)Plus, a signed, personalized book makes a unique Christmas gift.
We spent all day Friday at the show and had plenty of time to scope out the merchandise, and we're here to tell you that there is LOTS of cute stuff there this year. So grab your Christmas shopping list and jump in the car. We'll see you there.