When I was growing up, we had these wonderful, huge poplar trees in our backyard. One of them was perfect for a little platform that my dad put into one of the forks of the tree, complete with a swing that I could use to swing off of my perch into the yard below. I spent MANY hours in that tree with my friends, swinging in and out of it and playing pretend games and being a kid.
But in cities like the ones in Northwest Arkansas, there are so many new subdivisions where young families live. So a lot of us don't have mature trees that our kids can play in and around. But we still want the kids to have special memories of playing outside in their own backyards. So what's a mama to do? Sometimes you have to get creative. We asked our friend Josh, who is a bit of a "backyard play specialist" to give us an example of how you can have a freestanding, unique playhouse that will lure the kids into the great outdoors and also gives them a special place that's all their own.
Here's a note from the builder, Josh, about a freestanding structure he is currently working on in Fayetteville for a family with young kids.
"Randy and Melissa called me before Christmas to talk about a design for their two kids (8-month-old Harper and 5-year-old Hayden). They had seen pictures of my work, and loved the use of natural, sustainable materials and custom design. We spent an hour in their beautiful backyard, brainstorming ideas about all of the things they wanted in a structure (their 5 year old had a long list!) and looking at possible sites.
In the center of the backyard was a beautiful old mimosa tree, probably the biggest I've ever seen, but ultimately I decided that, because of its age and the strength properties of that type of tree, we should not build in it. We knew we wanted something that felt like a private clubhouse, had a window to look out of, a twisty slide and a swing. Randy mentioned that their son wanted a place to park his bike when he came home from riding bikes with friends. And throughout the brainstorming session, we noticed how their son loved climbing the trunks of two woody shrubs on one side of the yard.
As we talked, the structure began to take shape — the shrubs created a natural archway, kind of like a secret entrance. The kids could park their bikes by the shrub and go through the arch onto a ground-level ramp to a low platform, like a private shaded deck beneath the shrubs. From that first platform, they could then go up a ladder to a bridge with a swing beneath (swings are one of my favorite ways to make the best use of space and materials) and across to the main clubhouse. Here's a sketch of the design: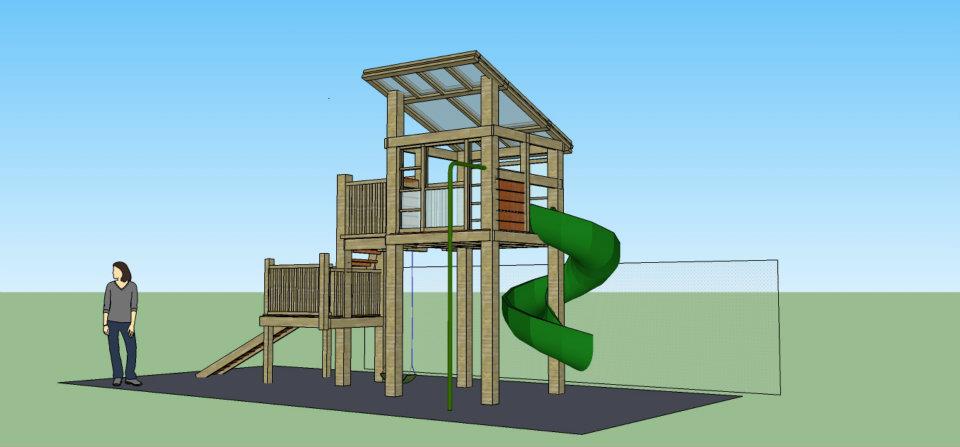 The tall structure is open to provide great views of the yard, and the path from the entry way up to the clubhouse creates a sense of adventure. It's easy to imagine their kids taking their friends on the path through the shrubs and up into the private clubhouse. And best of all, the clubhouse has two fun getaway options — a  twisty slide and a fireman's pole — for those times when they need to make a quick escape.
After an initial design and a round of revisions, we had a design we all loved. Randy came up with the great idea to use some polycarbonate panels (similar to those used on greenhouses) for the roof and partial walls and to frame them using a design that matched the family's screened in porch. We tweaked the design until it felt like
the right size and scope for the yard and until it fit the budget.
Right now we're a few days into the installation, and things are looking great. It's already apparent how strong the structure is, and you can get a feel for how it will fit into the look of the yard and how it will continue to improve in design as the shrubs around it continue to grow.
And best of all, their 5-year-old Hayden has had a blast checking my progress and helping me measure things when he gets home from school. :-)"
Stay tuned!! We'll keep you updated on how this family's playhouse comes together. Next Monday we'll show you photos of the completed project!
For more info on custom playhouses and tree houses, call Josh Hart at Natural State Treehouses at 479-387-0701. Perhaps he can dream a little backyard dream for your kids, too. Check out more examples of his work by clicking here. Or visit his company on Facebook to watch more fun play houses and tree houses go from design to reality.