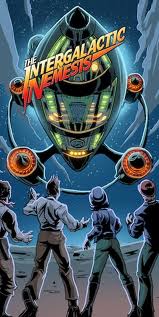 Note from the mamas: So sorry, but we just received word from Walton Arts Center that the Intergalactic Nemesis show will not be taking place in NWA. But look for another awesome Walton Arts Center giveaway starting Monday on nwaMotherlode! You'll love it.

"Delightful! Timelessly Cool! A Blast!" – Houston Chronicle
"Out of This World!" – Dallas Morning News
"If you haven't seen it, what are you waiting for?" – Austin Chronicle
We can't wait to add our review after the show! We're so pumped about seeing Intergalactic Nemesis on February 4, and we want you to be there, too! Wanna go? We're giving away TWO four-ticket family packs to this live-action graphic novel show! The giveaway also includes dinner for both winners at U.S. Pizza Co., so it's the perfect family outing!
ABOUT THE SHOW: At the height of the Great Depression, an adventure begins….
They're here! Those sludge-monsters from the planet Zygon are invading Northwest Arkansas, and they're armed with dangerous weapon: original artwork by the incomparable Tim Doyle. The story of Pulitzer-winner Molly Sloan and her intrepid assistant Timmy Mendez has toured the nation in the form of a radio drama, but now…
Imagine 1,250 hand-drawn full-color action-packed images projected one-by-one onto a huge screen! Imagine three actors voicing dozens of characters! Imagine one sound engineer creating hundreds of sound effects before your very eyes! Imagine being swept away by the incredible original music! Imagine a story that transports you from Rumania to Scotland to Tunis to the far reaches of outer space! But wait! You don't need to imagine it…
The Intergalactic Nemesis Live-Action Graphic Novel is coming to Walton Arts Center for you to experience IN PERSON. This is one show you don't want to miss!
Note: It's recommended for kids ages 7 and up. We like that there's no inappropriate language or innuendo in the show!
ABOUT THE FOOD: Kids and pizza just go together, right? So we're sending the winning families to chow down at a Dickson Street favorite: U.S. Pizza. We love that they use old-fashioned stone hearth ovens. The pizzas cook for at at least 25 minutes in the big ovens and are totally.worth.the.wait.
U.S. Pizza is also famous for delicious salads! This is a very kid-friendly atmosphere and it's a great place for families to hang out before or after a Walton Arts Center show. (Click here to see the U.S. Pizza menu.)

HOW TO ENTER: To throw your name in the hat for the show and the pizza, just click on the orange comment button below and tell us what your child would be called if (s)he were a comic book character. Lego-man? Super Stinky Diaper Boy? Right now, my tween daughter could probably play a great Mistress Moody! If you're not feeling creative, just tell us which superhero is popular around your house. (Superman? Batman? Wonder Woman? Higgyltown Heroes? Wonder Pets?)
You may also enter the giveaway drawing via email by sending your answer to giveaways@nwaMotherlode.com. Winners are always chosen at random.
HOW TO INCREASE YOUR ODDS: As always, we give extra chances to win to mamas who help us spread the word about the giveaway. Just email your friends and family about the giveaway and we'll give you an extra chance to win for every person you tell. Just be sure to put giveaways@nwaMotherlode.com on the CC line of your email so we can give you proper credit.
If you want to make sure you have tickets to this out-of-this-world show, click HERE or call the Walton Arts Center Box Office at 479-443-5600 to reserve tickets. Good luck in the drawing!