Easter weekend is here, and TONS of Easter egg hunts are happening in NWA! We didn't have space to squeeze them all in here, so be sure to CLICK HERE and check out our full list of NWA Easter events! Also, don't forget about our 2017 NWA Summer Camps Guide!
Latin Dance Night at Crystal Bridges
Head to Crystal Bridges tonight for a dance party with DJ Flex from La Zeta Radio. The Great Hall makes for beautiful surroundings to dance the night away to rhythmic Latin music. This event is free, and registration is required.
Date: Friday, April 14
Time: 8 to 11pm
Location: Crystal Bridges Museum
More info: Click here
Spring Fling at the Botanical Gardens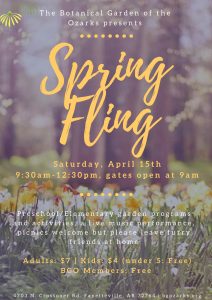 The Botanical Garden is hosting a kid-friendly event to kick off their Little Sprouts program season. They will have preschool and elementary level garden programs and activities and live musical performances. Picnics are encouraged!
Date: Saturday, April 15
Time: 9:00am to 12:30pm
Location: Botanical Garden of the Ozarks, Fayetteville
More info: Click here
AR Girls Code Workshop
If you have a daughter in 9th through 12th grade who loves math, science, or learning languages, register her for this FREE coding workshop from AR Girls Code! Participating girls will learn the basics of HTML, CSS, and Javascript through interactive, project-based learning. They will also have the chance to meet local female web developers, hear their stories, learn about their jobs, and ask them questions about their experiences and challenges.
This is an incredible opportunity provided by AR Girls Code and the Community Venture Foundation. The purpose of AR Girls Code is to inspire more young women to pursue a future in STEM.
Date: Saturday, April 15
Time: 9am to 2pm
Location: RevUnit, Bentonville
More info: Click here
Butterflies at Shiloh Museum of Ozark History
As part of their Third Saturday family series, the Shiloh Museum of Ozark History is hosting Gail Pianalto and Joyce Mendenhall, authors of Calla and the Caterpillar. The authors will discuss the importance of butterflies to our ecosystem. This event is free and open to kids of all ages.
Date: Saturday, April 15
Time: 10 to 11am
Location: Shiloh Museum of Ozark History
More info: Click here
Super Saturday: Reading with the Razorbacks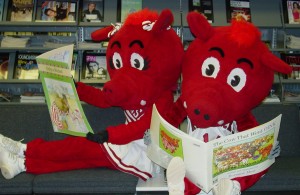 If you have little Razorback fans in your house, they will beg you to head to the Fayetteville Public Library this Saturday. Razorback athletes will be visiting the library to read to the kids, color, make bookmarks, and sign autographs!
Date: Saturday, April 15
Time: 10:30 to 11:30am
Location: Fayetteville Public Library
More info: Click here

Black Apple Crossing events this weekend:
The 5 events above offer some great options for the family, but if you have a sitter this weekend — and you're in need of a date night or a Girls' Night Out — our new Friday 5 sponsor, Black Apple Crossing, always has a fun line-up of events during the week and on weekends.
This weekend they'll host DanceMonkeyDance (tonight, Friday, April 14) and The Couch Jackets will be playing on Saturday night, April 15 as part of their Ciderday Night Live series. Ciderday Night Live events happen every weekend. They also have Taco Tuesdays, trivia nights and book club events during the week!

Black Apple Crossing is the state's first cidery. It's located in downtown Springdale off Emma Avenue just past mile marker 13. Black Apple Crossing has produced naturally gluten-free hard apple cider with no added sulfites or other preservatives since July 2015.
Click here to visit the Black Apple Crossing website. FYI, below is the cidery's new "Cardinal Kiss", a hibiscus-infused cider featuring a semi-sweet balance of fresh citrus, berry, and floral notes complemented by its brilliant red hue. BAX started serving up this beauty in late March.