Editors' note: Prism Education Center is a sponsor in the featured section of our 2017 Northwest Arkansas Summer Camps & Activities Guide. This story offers additional information about the camps and contact info.
Camp Name:
Age Group:
Kindergarten through fifth grade and 5th-9th grade
About Prism's school-age summer program
Prism Education Center is a nice blend of both choice-driven learning opportunities and more structured time in the classroom. The learning activities culminate in a family event held at the end of the summer. Throughout the summer program, students may receive academic tutoring in order to prevent student regression over the summer. These are all-day camps as needed.
In 2017, Prism will host two separate programs that differ in content and structure based on the grades served in each program.
About Prism's private school option
Prism is now enrolling K-12 private school students. They also have early childhood and after-school options. For more information about Prism's values-based education programs for the 2017-18 school year, located in Fayetteville, visit the website HERE.
Find out more about Prism in this video:
Prism Education Center from Prism Education Center on Vimeo.
Where are Prism classes held?
All school-age summer programs will be held at Prism's new campus on Joyce Boulevard in Fayetteville.
About the kindergarten – 5th grade Summer Camp program:
Students will engage in project-based enrichment projects to deepen their understanding and awareness of other nations and cultures. Through field trips, group projects, experiential learning opportunities and guest speakers, students will learn about different culture. The structure of Prism's summer program ensures that even though it feels like a fun summer day camp, students will still be engaged in learning activities and will grow and develop academically.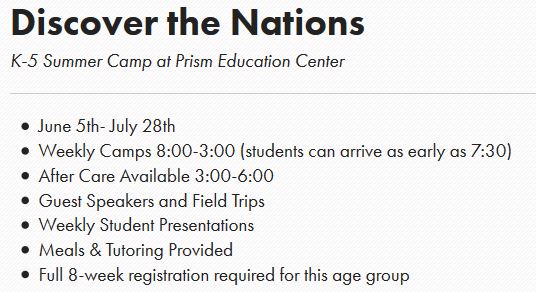 About the 5th – 9th grade Summer Camp program:
The 5th through 9th grade program offers students an opportunity to think critically about global challenges that impact individuals all over the world today and generate their own solutions to these issues. Each week students will be presented with a global challenge and will explore that issue through project-based learning, field trips, and engagements with guest speakers both locally and from around the world. Students will collaborate in small groups with other students to generate meaningful and innovative solutions to these challenges and present them each Friday.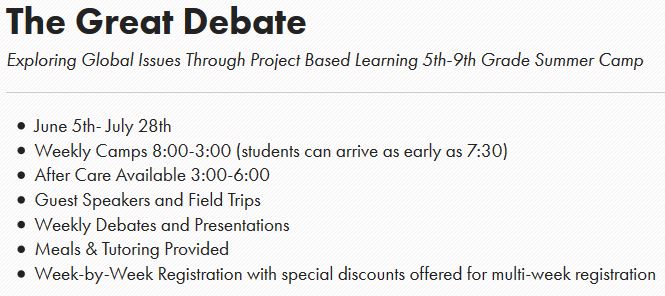 Click here for more info about Prism Education Center's summer programming and camps!