Editor's note: Aspire is a paid sponsor in the featured section of our 2019 Northwest Arkansas Summer Camps & Activities Guide. This story offers additional information about Aspire summer camps as well as contact info.

Aspire Summer Camps
About our camps: Perfect for kids with plenty of energy, Aspire Summer Camps include games, crafts, trampoline time, gymnastics, ninja obstacles, water play, snacks, and more. Each camper receives a camp t-shirt (if registered by deadline). Camp is focused on fun with friends, and kids will have plenty of opportunities to move, jump, and play. The three camp themes available this year are: Secret Life of Pets camp; Superheroes camp; and Star Wars camp. (There is also a "Tots Camp" that's part of the Secret Life of Pets Camp for kids ages 4 or 5.)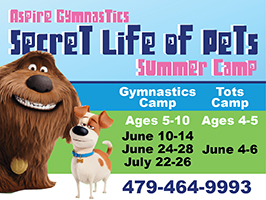 Location of camp: 906 NW 13th St., Bentonville, AR 72712
Camp hours: 8:30 to noon for regular campers; Tots Camp runs from 9 a.m. to 11:30 a.m.
Ages served: 4 to 11 (depending on the camp theme) Tots camp is for ages 4 or 5.
Camp Dates & Themes: (click each link below for more details on camp themes)
June 17-21, 2019
July 29 – August 2, 2019
Cost: $120 (includes camp t-shirt); Tots Camp cost is $80 and includes t-shirt
Contact info: (479) 464-9993; Email aspire@aspiregymnasticsacademy.com