By Jen Adair, Blogger at Slightly Tilted, Entreprenuer, Homeschool Mom to two fab kiddos
Browsing through Pinterest the other day, I saved at least ten recipes to my "Favorite Meals" board. This was a lie. I hadn't ever made the recipes, will probably never make the recipes, and am currently on a "no cooking" kick.
I lie to myself like this all the time.
Don't think badly of me. You do it, too, and if you say you don't…you're lying.
How many times have you said to yourself "I'll start my diet tomorrow" or "I'll stop eating my kid's leftover French fries" or "I'll shave my legs in the morning." And then you don't. You never really intended to do it, either.
If I'm honest (which we just established that I am not), most of my internal dialogue is just a bunch of lies I tell myself to make myself feel better or worse, depending on the situation.
If my jeans don't fit, I say to myself, "They never fit right out of the dryer." If the laundry is dry and I don't want to fold it, I say to myself, "They could use another 20 minutes." If the car is telling me I have 3 miles left in the gas tank, I say to myself "I'm only 1 mile from home." If I text someone and they don't text me back, I tell myself, "They're so mad at you! What did you do this time?"
Why do we do this to ourselves? Are we trying to stay humble? Do we like to be miserable? Are we afraid of being kind to our inner-self? I have no idea! All I know is that if I feel pretty confident about something I've done or an outfit I'm wearing, I'm quick to nip that burst of self-esteem in the bud with my own inner critic.
The biggest lie I tell myself is "You are not a good mom." This runs through my head at least two million times a day. The clothes they wanted to wear aren't washed and dried. They should eat more vegetables. I don't discipline them enough. I discipline them too much. I shouldn't have said that. I shouldn't have done this. On and on and on….
The fact of the matter is that I am a good mom. At least, I'm as good as I can be today. Some days that's much better than others, I'll admit. But I'm hanging in there, day in and day out. How about you?
We are a bunch of liars. That much is true. The hard part is figuring out what the truth is and then being gentle enough with yourself to believe it.
You got this. And leaving the clothes in the dryer for another 20 minutes never hurt anything.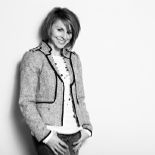 Hey. I'm Jen Adair. I'm an entrepreneur. Homeschool mom. CEO of organized chaos. Ok – it's really not all that organized. Some days are great, some are not, some days I feel invincible, some days I can barely get out of bed. BUT…it's my life and I'm living it. Browse my collection of random thoughts, humor (well, I think I'm funny!), images, links, whatever…at my blog Slightly Tilted. Sharing is caring, people! ?