A kids' show called "Hurry Up…and Wait!" is happening at Trike Theatre Nov. 23, 2019.

Mamas, here's some info about a fun kids' show you and your little ones can see this Saturday (November 23, 2019) at Trike Theatre in Bentonville.
This show was such a hit with kids the first time it was performed that Trike has brought it back by popular demand. Mamas, you're going to love the main subject of this show because it's all about PATIENCE. We all know how tough it is to teach that concept to our little kids who want things to happen right now!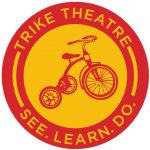 Through songs, games, and storytelling, Wendy and Harry will plant a new garden and discover when it's best to hurry up and when it is best to wait.
Don't worry about taking your youngest kids this show because it's part of the Little Trike Season, which is specifically aimed at little kids who are having their first experiences with seeing live shows at a theatre.
Tickets are only $6 each, and kids under the age of 2 get in free. The show lasts about 30 minutes, and there are two different showtimes — 3 p.m. and 4:30 p.m. on November 23, 2019 at Trike Theatre in Bentonville.
Get your tickets by clicking here.