By Melinda Worthington, owner of MJW Photography and mama of three

Summer time is full of outdoor activities with our children.  From amusement parks to playgrounds, there are always moments to capture of your children.  Going to a party and taking a ton of pictures only to find out that they are all blurry or dark is a horrible feeling … one I'm hoping to help you fix.
The first thing you need to do is take the time to read your camera manual and practice with it … really, this does help!  I know we all have a habit of buying a camera thinking it knows what to do, but remember that your camera can only do what you tell it to do.  Cameras have come a long way, especially point and shoot cameras.  They have the ability to do so much if only we would take the time to learn their features.
For the sake of this article I used a Panasonic Lumix model number DMC_TZ5.  All the pictures in this article are straight out of the camera (SOOC) with absolutely no professional editing.
When you look at your camera's different settings (every camera will vary) you'll notice most will have a sports mode with a picture of a guy running.  This comes in very handy when you have a moving object.  Take your camera off the automatic setting and put it on sports mode if you want to stop something in action.  Below is an example of sports mode.  When my son came running at me I locked the focus on him before he got too close, then I hit the shutter when he was right there.  Most cameras have a focus lock option that will allow you to push the shutter button halfway down to lock the focus in place before your ready to shoot.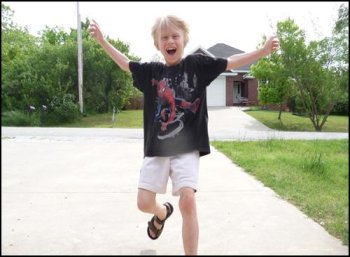 Now, say you want to get something more in motion?  Say your child is riding a kiddie ride at Silver Dollar City and you really want to get it all.  There is often a setting called Hi-Speed Burst.  This will allow you to take rapid fire shots very fast if you hold down the shutter button.  Just focus on your subject before they start, then when they go hold down that button and it will fire away!  This is how I took this set of shots of my son jumping up and down.  He just kept on jumping while I held down the shutter.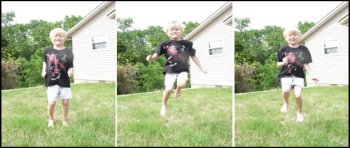 Another thing you normally don't want to do is shoot into the sun because this will cause your subject to be dark.  However, sometimes we don't have a choice, right?  
To solve this, there is a setting on some point-and-shoot cameras that if you know about will become your new best friend.  It is called EXPOSURE.  Below is a picture of what it will look like on the back of your camera.  When you are shooting a picture of your child and you're facing the sun…go ahead and assume that your child's face will be dark.  This is an underexposed picture.  If you use that exposure chart and put it at +1 or even +2 you'll open up the light on your subject.  You can do the opposite if you are getting too much light, put it down to -1 or -2.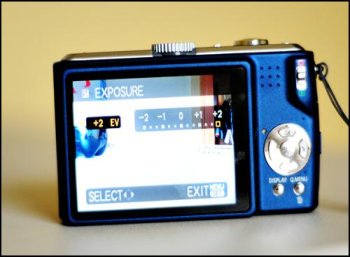 This first picture is with the exposure set to zero and the second one I put the exposure up to +2…big difference right?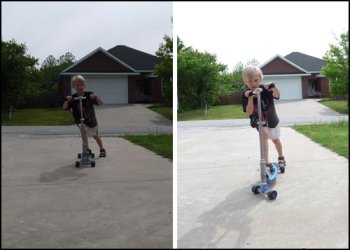 Have fun this summer and remember not to get frustrated. Just keep practicing!
Melinda J. Worthington is a Northwest Arkansas photographer who specializes in childrens' portraits. Mindy knows just how to "make memories into art" as her website says. To read a more in-depth story about Mindy on Motherlode and to see some of her children's portraits, click HERE. Or jump over to her website to book an appointment or see what she's all about (link).