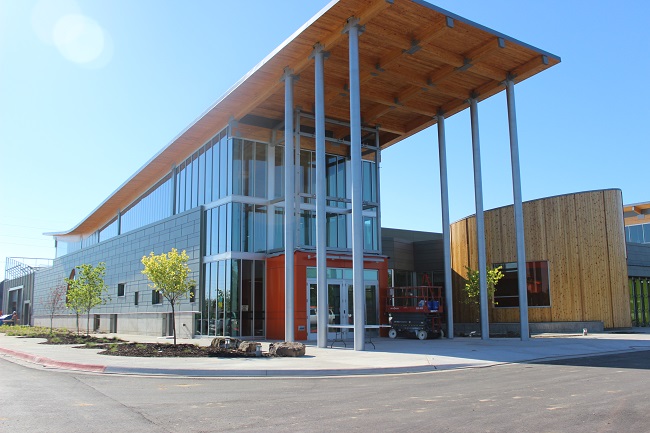 Hooray, The Scott Family Amazeum opens on July 15th!
We definitely wanted to get this new children's museum on our Outings list. Now, it's not free, but the math works out to under $2 per person if you go every week after buying a family membership for a year. The annual membership fee (for a family of four) is $95. You can add more people to the family membership for an extra $25 each.
The Amazeum recently announced that its hours of operation will include special evening hours and member exclusive opportunities. Beginning July 15, the Amazeum will be open Monday and Wednesday through Saturday from 10 a.m. until 5 p.m.; and Sundays from 1 p.m. until 5 p.m. The museum will be closed on Tuesdays (it's over by Crystal Bridges Museum, which is also closed on Tuesdays).
Through Labor Day, the Amazeum will remain open until 7 p.m. on Mondays and Wednesdays.

Charter memberships are available for purchase at Amazeum.org. Members will be able to enter the Amazeum on opening day beginning at 9 a.m.
Membership benefits include reciprocal admission with science and children's museums across the country (including the Museum of Discovery in Little Rock). Full details of membership options and benefits can be found at Amazeum.org. So far, more than 1,200 memberships have been sold.
A single-day admission will be $9.50 and kids under 2 will be free.
"We are happy to be able to keep our admission at the low end of our goal range thanks to the hard work of our staff and the support of our funders," said Sam Dean, executive director of the Scott Family Amazeum. "We wanted to keep our admission at a place that was affordable, yet still supported our sustainability as a nonprofit organization."
Dean noted that the organization's accessibility program, Amazeum for All, will work to ensure that families and children who may not be able to afford entry are able to visit at no cost. "We were able to distribute the first 550 Amazeum for All passes to Sunshine School and Development Center thanks to support from General Mills generous charter members who made additional gifts. We look forward to growing the Amazeum for All program in the coming months."
Children and their families will be able to grab a healthy snack or light meal from the quick service café. There's also a museum store.
More about the Amazeum: The Amazeum is a hands-on, interactive museum for children and families in Northwest Arkansas. The nearly 50,000-square-foot space, located at the intersection of J Street and Museum Way in Bentonville, is designed to engage the imagination of children and their families through hands-on activities and interactive exhibits. Experiences will include a climbable tree canopy, indoor cave, an art studio, and more. Exhibitions will extend to the museum grounds where approximately one acre of land will provide the background for more learning and fun. The Amazeum will also feature indoor and outdoor event space. For additional information about the museum and its progress, visit Amazeum.org.