Q: I'm a mom with two small kids, and they love Christmas and everything leading up to it. I feel guilty about this, but I find it really tough to do all the fun things this time of year, even though I try to fake the "festive" mood as much as I can. Two years ago, my mother passed away after a car accident a few days after Christmas. I feel the loss so deeply this time of year, and it's hard to climb out of this pre-holiday funk. I don't want to ruin all the "merry and bright" feelings that my husband and kids have, but I don't know how to make these feelings go away either. How do you celebrate a holiday with a broken heart?
Response by Ozark Guidance:
First, please accept my deepest condolences. The loss of a loved one is deeply painful and can ignite complex emotions, especially during the holidays. I hope you find peace and solace in the words below as you commemorate this holiday season.
First and foremost, be gentle with yourself. The holidays can be a bustling time of year, in which we often place our attention and intentions on others. Your well-being is equally as important— allow yourself time, space and energy to address your needs. You deserve it.
Give your feelings of grief a specific time and place so that they may be recognized and honored. A few suggestions include: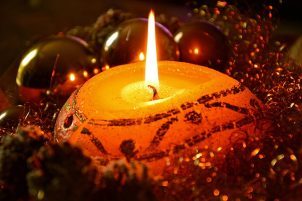 Lighting a candle at your home or at your place of worship in honor of your loved one throughout the holiday season
Making a memorial wreath or special holiday decoration to honor your loved one. You may also wish to encourage participation from your little ones, so that they may put their special "touch" to the decoration and share their thoughts and feelings
Carrying on a holiday tradition that was meaningful to your loved one, such as baking a special holiday treat, playing a favorite game or watching their favorite holiday movie
Sharing a favorite story or holiday adventure about your loved one with your children, family or friends. If visiting with family, ask that they share a light-hearted story around the holiday table to honor and commemorate their spirit
You may also choose to:
Give yourself permission to cut back on holiday events (without guilt). The holiday season is chock-full of parties and festivities with friends, family and significant others which can lead to feeling overwhelmed and overloaded. Be kind to yourself and select only a few festivities to attend, while also planning "exit strategies" ahead of time in the event you become overwhelmed. In place of holiday events, you may choose to do an activity your loved one would have enjoyed or simply spend time with those closest to you, participating in a quiet activity such as looking through photo books or memory boxes of your loved one.
Establish new traditions or reinvent old traditions in a new way. Remember, there is no right or wrong way to celebrate the holidays. Give yourself permission to explore what you truly love about the holiday season and do only what you love. Incorporate your children in making holiday traditions "just yours".
Consider reaching out for professional help.
I wish you and your family peace during this holiday season.
Note from the mamas: This post first published in December 2018. We thought it might be helpful to someone who's hurting this holiday season. xox
Click here to read more questions and answers in the On Your Mind category.
Disclaimer: This RESPONSE does not provide medical advice It is intended for informational purposes only. It is not a substitute for professional medical advice, diagnosis or treatment. Never ignore professional medical advice in seeking treatment because of something you have read on nwaMotherlode or Ozark Guidance websites.
Save