Northwest Arkansas Calendar of Events: April 2021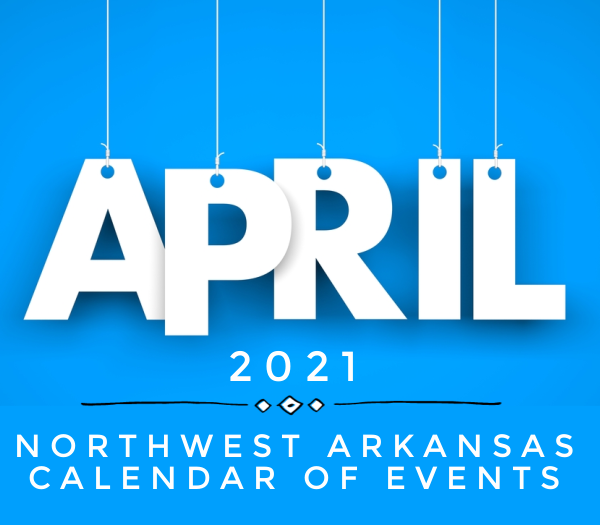 Welcome to April, mamas! Here's a list of family-friendly events happening in Northwest Arkansas throughout April 2021. Click on the name of the event to find out more.
Looking for Easter events? Check out our list of Easter egg hunts and activities here!
Families with younger kids, come enjoy Starlight Skatium's newest session, "Skater Tot." Learn to skate, or ride around the rink floor on gliders and scooters. Or bring your own ride-on toy. This is a reoccurring session held on the first Thursday of the month. This session is geared for ages 10 and under, but parents are welcome to skate as well. Admission is $5 which includes any type of skate rental (quad, speed, or inline).
Time: 10 a.m.-12:30 p.m.
Date: April 1
Location: Starlight Skatium 612 N. College Ave. Fayetteville
Grab a Slam Dunk Party Pack (or 3) and focus on your bracket, not your hunger. All recipes developed & prepared by Ignitecaps high school students at Brightwater NWA. 100% of proceeds benefit the Sharing & Caring Irene Medrano Scholarship Fund, providing scholarships to Benton County high school students in need. A pack that feeds 4 is $48; two packs that serve 8 is $80; three packs that serve 12 is $100. Available to order through April 2 and curbside pickup will take place April 1-2 in the Sharing and Caring drive-thru on the north side of the building.
Time: 12-4 p.m. April 1; 9 a.m.-4 p.m. April 2
Date: April 1-2
Location: 706 Walton Blvd. Bentonville
Apple Seeds is celebrating spring with a series of Cocktails and Appetizers fundraisers at The Farm.  Enjoy a sparkling cocktail and an appetizer created by Haley O'Brien. Walk in the gardens, sit on the lawn or gather under our new pavilion with your closest friends for a beautiful start to your evening.
Time: 5-6:30 p.m.
Date: April 1
Location: Apple Seeds 2648 N. Old Wire Rd. Fayetteville
The NWA Employment Showcase replaces the 2021 NWA Spring Job Fair. The new format improves upon the existing job fair format by taking it online and showcasing available jobs and careers in our region for the entire month of April. The webpage will provide links directly to available job postings for quick and easy access for job seekers, who can learn about dozens of career opportunities and companies in our area all on one easy-to-navigate webpage. There is no limit to the number of positions you can list or apply for.
Time: all day beginning April 1
Date: April 1-30
Location: online
The Amazeum will host a Sensory Friendly Night, a special night for children with special needs, their siblings and grownups to have the Amazeum to themselves. Explore the Amazeum's favorite sensory friendly activities and play in your favorite exhibit areas. Experience different textures during a Sensory Walk or jam out with at a Dance Party. Members are free and non-member admission is $2 each. Registration is required. Special thanks to partners Arkansas Support Network, Down Syndrome Connection, Play with a Passion, Sunshine School, and Ability Tree.
Time: 6-8 p.m.
Date: April 2
Location: Scott Family Amazeum 1009 Museum Way Bentonville
Show your support for the Children's Advocacy Center of Benton County and #ShineTheLight on child abuse in our area by wearing blue on Friday, April 2. An in-person, socially distanced Pinwheel Rally will take place the same day on the Downtown Bentonville Square at 11:30 a.m. Bring your mask and help bring much-needed awareness to the community to kick off April as National Child Abuse Awareness & Prevention Month. Tag them on social media (@CACBentonCounty) or in a post on the event page for a chance to be featured in our newsfeed and in stories.
Time: 11:30 a.m.
Date: April 2
Location: downtown Bentonville square
The event will take place street-side on Johnson Avenue in front of the Shiloh Museum. Stay in your car and the milkweeds will be brought to you. Museum staff and volunteers will be wearing masks and gloves. Please show them equal respect by wearing a mask when receiving your plants. Limit 5 plants per adult. Form a car line in front of the museum going west; cars will be loaded and leave, then the next car will pull up to receive plants. Plants are free but donations will be accepted (cash and check only) to support the Elizabeth Richardson Center.
Time: 9 a.m.-12 p.m.
Date: April 3
Location: Shiloh Museum of Ozark History 118 W. Johnson Ave. Springdale
An Audio Theater production of Shakespeare's famous comedy, "The Comedy of Errors" will take place Saturday April 3. It's been adapted for audio theater by Jacob Mann Christiansen and is a funny telling of mistaken identities. Performed live at Shiloh Square/Turnbow Park in Springdale by actors socially distanced. Bring your own lawn Chair. Admission is free.
Time: 2-3:30 p.m.
Date: April 3
Location: Shiloh Square 106 W. Emma Springdale
This year's Kite Day will have kite making and flying as well as a 'touch a truck' event with the Siloam Springs Police Dept, Fire Department, Street Department and Airport. This is a free event.
Time: 10 a.m.-Noon
Date: April 3
Location: 4600 Smith Field Dr. Siloam Springs
The 5th Annual Tee Up Your Future event will take place virtually on April 6. This event is free and open to 7th through 12th grade girls. Different female executives from Northwest Arkansas will share how core values, like those taught through the First Tee curriculum, helped to shape their lives personally and professionally. Their discussions are designed to leave attendees with inspiration, tools for success and the confidence to create the lifestyles they desire. Speakers are Rupal Poltack, Walton Enterprises; Ebony Wyatt, General Mills and Tie Velasco, First Tee NWA.
Time: 11:30 a.m.-12:30 p.m.
Date: April 6
Location: online
Join an afternoon of creativity and community at Crystal Bridges' monthly bring-your-own-craft virtual gathering. Local artists Rainy Hopwood and Katie Martin will share stories and crafting tips as they discuss their current projects and the role that craft plays in their friendship and community. Guests are welcome to bring any creative project they're working on and connect via Zoom. Crafternoon is a series of virtual gatherings hosted by local craft artists and friends in support of CB's current exhibition Crafting America. This event is free. Register online or by calling Guest Services at 479.657.2335 to join via Zoom webinar. Once registered, you'll receive a link to join the Zoom meeting in your ticket confirmation email.
Time: 1-2 p.m.
Date: April 6
Location: online via Zoom
The 10th Annual Out of The Box Luncheon, a Fireside Chat with Donna Morris and Jaclyn House, will take place on April 9. Join Girls on the Run for a conversation with Donna Morris, Executive Vice President, Chief People Officer of Walmart, Inc. and Jaclyn House of KNWA. This year's program will be virtual via Zoom. Registration is free, or select a $35 ticket to receive a luncheon packet mailed to your address. Luncheon packets include a lunch gift card and other goodies from local sponsors. A virtual table ticket is available for groups of 10 and luncheon packets for all, priced at $300.
Time: 11:30 a.m.-12:15 p.m.
Date: April 9
Location: This virtual event takes place via Zoom
Join the Amazeum April 10-16 as they celebrate the Week of the Young Child. This week is a nationwide celebration of early learning and young children. Each day this week Amazeum staff members will be in a different exhibit space at the Amazeum with activities that allow your child to explore, create and be curious.
Time: during regular Amazeum hours
Date: April 10-16
Location: Scott Family Amazeum 1009 Museum Way, Bentonville
Welcome spring with a close look at the flowering trees on the Crystal Bridges' trails and their reciprocal relationship with pollinators. This session led by Crystal Bridges horticulturalist Marina McCoy will help guests discover how early-blooming plants are an important source of pollen and nectar for a new generation of bees that emerge in the spring. Crystal Bridges requires face coverings at outdoor programs and events. The event is free. Register online or with Guest Services at 479.657.2335.
Time: 10:30-11:30 a.m.
Date: April 10
Location: South Lawn at Crystal Bridges Museum of American Art 600 Museum Way Bentonville
This spring shopping event has more than 120+ vendors from 15 states. Food trucks and specialty makers will have meals and snacks available. The market is mostly indoors at the two large barns at Benton County Fairgrounds, so it will happen rain or shine. Children 12 and under are free admission. Once purchased, your ticket is good for re-entry all weekend. Tickets are $5-10 each.
Time: 10 a.m.-5 p.m. (April 9, 10); 10 a.m.-4 p.m. (April 11)
Date: Early buying event April 9; General admission April 10 and 11
Location: Benton County Fairgrounds 7640 SW Regional Airport Blvd. Bentonville
The Bentonville Farmers Market will open for the season on April 10. Saturday market runs weekly from 7:30 a.m.-1 p.m. on the Bentonville Square. All market guests are asked to follow CDC health guidelines. Shoppers located within the market footprint must wear face masks and maintain a 6-foot physical distance from other guests. Vendor tents will be distanced ten feet apart to allow for ample social distancing. High risk shoppers are encouraged to visit the market between 7:30 and 8:30 a.m.
Time: 7:30 a.m.-1 p.m.
Date: Saturdays starting April 10
Location: Downtown Bentonville square
Youth of the Year is Boys & Girls Clubs of Benton County's annual teen leadership recognition event presented by Unilever. Club members who have demonstrated exceptional character and made meaningful contributions to their communities are celebrated here. Guests will have an opportunity to hear compelling stories from Youth of the Year candidates, as well as witness the announcement of the 2021 Benton County Youth of the Year. They will livestream the event on Facebook Live at 12 PM and again at 6 PM on April 16.
Time: 12 p.m.
Date: April 16
Location: online
Grillmasters will do the work while you relax among the beautiful spring blooms of the Crystal Bridges North Forest. Join in a celebration of food, drink, art and the spring season at pop-up Sunday cookouts this April 18 and April 25. Explore the museum's collection of outdoor artworks while listening to live music on the lawn, join a scavenger hunt among the spring-blooming dogwood trees, or dine and drink all while playing yard games with friends and family. Beers, brats and other gourmet handheld delights will be available for purchase off the grill. The Trails and Grounds department will be on hand with spring gardening tips and tours of the forest. Bring a picnic blanket and relax among the trees and art. Outside food and drinks are prohibited. To keep you safe, there are occupancy limits and timed-entry tickets. As a safety precaution, Crystal Bridges requires that face coverings are worn  by guests of age 10 and older at outdoor programs. The event is free, registration required.
Time: 11 a.m.-6 p.m.
Date: April 18 and 25
Location: Crystal Bridges Museum of American Art 600 Museum Way Bentonville
Save a virtual seat at the Saving Grace Butterflies & Blooms livestream event that will take place on Thursday, April 22. This event will stream live on Facebook and at savinggracenwa.org/bb Sign up for a free virtual ticket at savingracenwa.org/bb and invite others. You can even sign up to host a watch party and be entered to win a prize package from the non-profit's community partners. Not able to join online? You can still make a lasting impact by giving a gift of support for a girl experiencing homelessness. A donation of $37 can provide one full day of support.
Time: 11:45 a.m.- 1 p.m.
Date: April 22
Location: Online
The Children's Advocacy Center is currently working to produce a high quality in person event for April 23rd. Additional details will be available as they are finalized. The focus will remain on safety, based on the latest guidelines provided. To prioritize the health and safety of all athletes, volunteers, and staff are taking preventative measures. All participants are required to wear a mask or face covering except while actively participating in the event. Participants will have the opportunity to defer, not attend, or switch to a virtual event if they are experiencing illness symptoms.
Time: 5 p.m.
Date: April 23
Location: First United Methodist Church, 307 W. Elm St. downtown Rogers
Join the NWACC Foundation for the annual Plant A Seed Soiree, featuring a Courtyard Reception and Dinner at the Ravington. This annual event brings guests together for a night out featuring food, entertainment and inspirational student stories. Mingle with fellow guests, meet NWACC students and enjoy an evening supporting NWACC programs and student scholarships. Seating is limited, so get your tickets soon.
Time: 6 p.m.
Date: April 24
Location: The Ravington 293 N. Main St. Centerton
The Scott Family Amazeum UnGala FUNdraiser presented by Nabholz Construction is unlike other fundraisers. You won't need that tuxedo or gown, or uncomfortable shoes; it's not that kind of gala. At the UnGala giving your inner child (21+) a night out to play makes someone else's day. Each ticket purchased for this year's unique, two-part, grown-ups-only event supports the Amazeum's ongoing innovative arts and sciences education work in Northwest Arkansas and beyond. The signature experience debuting at the UnGala this year is Impulse, a playful installation of light and sound enhanced see-saws scaled to a surreal size. The museum and a one-acre outdoor Playscape will feature one-of-a-kind, distance-friendly experiences exclusive to our UnGala guests, along with our exhibits. On your way out, pick up a take-and-make meal from food truck friends, beverages, and some surprise supplies for our online gathering in the evening.
Time: 2-5 p.m. in person and 6-8 p.m. virtual
Date: April 24
Location: Scott Family Amazeum 1009 Museum Way Bentonville or online
This family friendly outdoor festival will celebrate Earth Day with crafts, games, music, activities and giveaways. Visit booths featuring a dozen of our community partners and explore six cultivated acres of spring garden beauty. Greedy Goats NWA will have live goats for guests to pet and feed. This event is free for Botanical Garden members. Nonmembers admission is $10 for adults, $5 for kids ages 4-12 and children 3 and under are free. Capacity will be limited, so please register in advance.
Time: 1-5 p.m.
Date: April 25
Location: Botanical Garden of the Ozarks 4703 N. Crossover Rd. Fayetteville
The Square 2 Square Bike Ride is back with in-person and virtual options for riders. The virtual ride will take place May 1-31. Participants can complete their virtual ride during this time frame. In addition to the traditional 30 mile course along the Razorback Greenway from the Fayetteville Square to the Bentonville Square on May 1st, the virtual ride will feature a 15 mile option. Suggested route maps can make your ride planning easy, whether it starts in the north or in the south, riding point to point or round trip. Adult riders are $35 and youth riders are $20; a family of riders (up to 5) is $60. Register at fayetteville-ar.gov/square2square or playbentonville.com.
Time: begins 7-10 a.m. for the in person race
Date: May 1 for Fayetteville to Bentonville in person; May 1-31 for virtual race
Location: in person race starts from Walker Park 10 W 15th St. Fayetteville and ends near Bentonville Square/David Peel Park
The Fayetteville Public Library
FPL continues to offer story times, workshops and discussions for a variety of ages almost daily. All activities are currently held online and can be found at https://www.faylib.org/calendar.
Crystal Bridges Museum of American Art
The museum offers a variety of workshops, gallery tours, sketchbook clubs and outdoor events throughout the month. See https://crystalbridges.org/calendar/2021-04/ for more information.
Springdale Public Library Storytimes
Toddler Time takes place at 11 a.m. on the first and third Wednesdays of the month; Preschool Storytime are at 11 a.m. on the second and fourth Tuesdays; Bilingual Spanish/English Storytime are first and third Thursdays at 4 p.m. These storytimes are accessed through the Springdale Public Library Facebook page.
Library programs are free, and all are virtual. The Library is open to the public by appointment and also offers curbside pickup and printing during operating hours. New operating hours are Monday – Saturday 9 am to 6 pm. For more information, see www.springdalelibrary.org.