Happy Monday, Northwest Arkansas mamas! Did you see the big announcement on Good Morning America today? New Kids on the Block is touring next summer, and one of their concert locations is Northwest Arkansas!
The iconic boy band will be on the Magic Summer Tour 2024, and two of the special guests will be Paula Abdul and DJ Jazzy Jeff! You'll be able to see them all next summer at the Walmart AMP on June 26, 2024. (Do you hear it? That's the sound of thousands of former teens of the 80s and 90s rejoicing all over NWA.)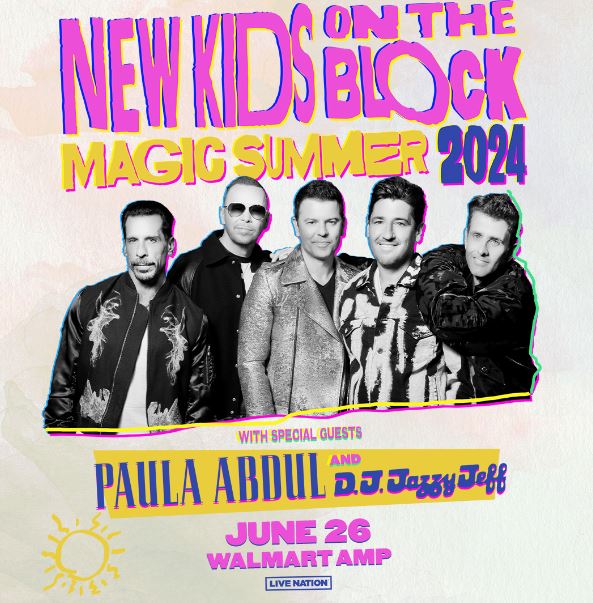 Tickets will go on sale on Friday, November 3, 2023. But this week on nwaMotherlode.com, you can win a pair of tickets BEFORE anyone can buy them! 
ABOUT THE CONCERT TOUR:
New Kids on the Block exploded in popularity in the late 80s when it began making and setting records. The band sold more than 80 million records around the world with hits including "Step by Step," "You Got It (The Right Stuff)," "Hangin' Tough," "I'll Be Loving You," and "Cover Girl."
If you were a teenager in the 80s or 90s, you might be having a little deja vu. That's because the first NKOTB Magic Summer Tour took place circa 1990. Coca-Cola was the sponsor of that tour, and it was tied into the infamous Coke MagicCan.
HOW TO ENTER:
To throw your name in the online hat to win 2 tickets to see New Kids on the Block with guests Paula Abdul and DJ Jazzy Jeff in concert on June 26, 2024, scroll down to the bottom of this post (and past the comments posted by other moms) until you see the words "Leave a Reply."
Then write a quick comment telling us your favorite New Kids song or why you're a superfan of this iconic band. 
You can also email your answer to us at giveaways@nwaMotherlode.com.
We choose winners at random using a random number generator. But if you'd rather not leave it up to the luck of the draw, you can purchase tickets for this concert beginning November 3, 2023. For ticket details, visit the AMP website by clicking here.
Good luck in the online drawing for tickets! We'll email the winner by Friday!