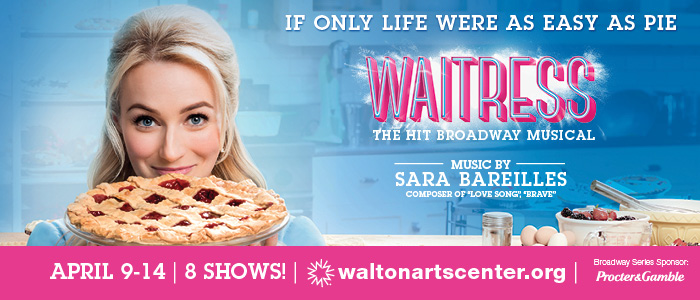 Mamas, you still have a little time to get a ticket and join us for a fun Moms' Night Out at the Walton Arts Center on April 11, 2019. A group of us are going to see the show Waitress — a musical about a woman named Jenny who works in a diner and goes through some major life changes. (The music for this entire show was done by Sara Bareilles, who wrote and performed hits including "Brave," "Love Song," and "Gravity.")

Before the show, we'll gather in a room at Walton Arts Center that's just steps away from the main theatre. Bordinos will be bringing us some amazing appetizers, and we'll also have a few pies from the always delicious Rick's Bakery.
The food and non-alcoholic drinks are free, but there will also be a cash bar available in case anyone wants a glass of wine or beer before the show.
We'll wrap up the pre-show party with a few fun door prizes from nwaMotherlode sponsors, including:
Here's a link to more information (and a video sneak peek) about the show Waitress.
JOIN US: If you'd like to join our block of seats, talk to Skyler Schwarting at the Walton Arts Center by calling (479) 571-2719. (If you get his voice mail, please leave a message and he'll call you back.) Let him know that you want to attend the Moms' Night Out with nwaMotherlode and he'll take care of the rest. Our mamas get special pricing and awesome seats!