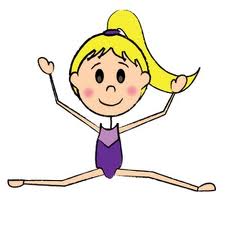 What's young and cute and flips all over?
Answer: Your kid — if he or she goes to one of the summer camps at Aspire Gymnastics. Aspire recently won TWO awards in the 2012 Mom's Choice Awards, hosted by nwaMotherlode.com and Kid's Directory. With more than 19,000 votes submitted by local moms, Aspire was voted No. 1 in "Best Gymnastics Lessons" and came in as the first runner-up in an additional category because they've become well known for helping cheerleaders and future cheerleaders master tumbling skills. Congrats to Aspire for the awards!
We all know how kids can get restless during the summer break, so it's good to have activities lined up that keep them active. And if they can be active AND learn new things at the same time? Bonus.
Aspire has several summer camps for various age groups scheduled this summer and there are still some spots open. Here are some of the summer camp dates, times and age ranges: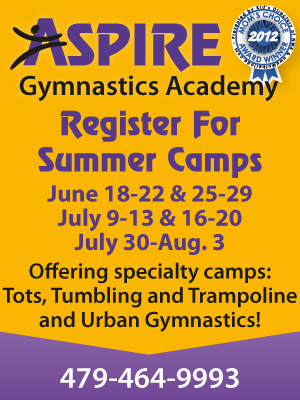 Sail Away Gymnastics Camps
Ages: 5 to 11
Dates: June 18 – 22; June 25 – 29; July 9 – July 13; July 16 – 20; July 30 – Aug. 3.
Time: 8:30 a.m. to Noon Monday through Friday
Cost: $110
OTHER SPECIALTY CAMPS:
Tumbling / Trampoline Camp
Ages: 6-15
Dates: July 24 – 26, 2012
Times: 9 a.m. to 11:30 a.m.
Tots Camp
Ages: 4 and 5-year-olds
Dates: June 12 – 14, 2012
Times: 9 a.m. to 11:30 a.m.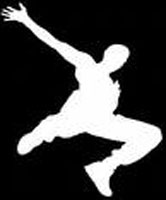 ATTENTION MOMS OF BOYS!! This new specialty camp called "Urban Gymnastics" might be something your son would love. My 8-year-old son really wants to try it this summer. (The class is open to girls, too! Boys just seem to gravitate to this class.) Urban Gymnastics is a unique form of gymnastics that you have to see for yourself in order to believe it. It'll remind you of the way Spiderman might move through the city. Students learn how to move through any given environment in the most efficient way possible, using running, jumping, climbing and balancing. Click on the video below to get an idea of what kids in this class learn how to do. My boys think it looks "way cool."
Urban Gymnastics Camp
Ages: 8 to 16-year-olds
Dates: July 25 – 27, 2012
Times: 12:30 p.m. to 3 p.m.
HOW TO SIGN UP FOR A CAMP: Call Aspire Gymnastics at 479-464-9993. They're located at 906 NW 13th Street in Bentonville. You can also check them out online by clicking HERE.
URBAN GYMNASTICS DEMO VIDEO