By Autumn Manning, Motherlode blogger and soon-to-be mama of two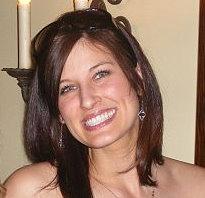 I'm getting darn close to the end and I am READY!! Last week at work wasn't slammed like it normally is, so I had WAY too much time to sit and think about how miserable I felt, how hot it was, and how slooooow the last 6 weeks would go. I literally felt like I would never, ever have this child.
But, luckily, this week has returned to the normal, hectic, crazy days, and things are looking up for me during my last weeks of pregnancy. The doctor's appointments increase to every two weeks, and then every week, so those make it seem like the time is passing faster.
I have found many things at the house that need to be fine-tuned before Marin arrives, so most nights I'm busy until I lay down to sleep (or…lightly nap in between all my pee breaks, rather). Last night, we spent the night rearranging furniture, cleaning baseboards and re-organizing closets. Poor Morgan…he is probably sick of my being pregnant as much as I am.
Work has picked up like crazy, too. In between all the meetings, developing new reports, business development, and all the others things that have to get done before I'm away for maternity leave, I have no time to think about how uncomfortable I am. This is great!
The only things left to do are the simplest, yet they seem to be the ones that get pushed aside first. I need to spend some time with Morgan, my husband. We are guilty of letting the fun and joy of spending extra time with Miles get in the way of us dating, so we haven't been out to a romantic dinner in quite some time. That, and my constant complaining don't make for such a fun date-night for him. If Marin is anything like Miles was, I'm going to soon be miserable, sleepless, and even grumpier than I am now. I won't have much time to spend on my husband, so it's probably smart to spend some quality time with him now.
Thinking back on the time when Miles was a newborn until he was about five months, I really distanced myself from my husband, kinda going into autopilot to deal with the colicky baby, the new work situation, and missing my friends and family in NWA. I'm hoping that doesn't repeat itself, but if it does, at least I know that feeling goes away.
I remember calling my married friends at the time and asking if they, too, wanted to pay someone to kidnap their husband, only to return him if he promised to never need any time or attention from me again. I'm comforted knowing that this feeling goes away. Just in case, I plan on spending some good quality time with him over the next five weeks because if I feel that way again, at least he will know he was loved before I plot his sudden disappearance. 🙂
I'd like to spend some more time with Miles, too, without him having to worry that he has been replaced by a newer model when Marin arrives. He is my little angel and I want to spend as much time as I can focusing and doting on him, only him. I'm thinking of taking him to Eureka for a weekend with no plans. We've decided to pull him out of daycare once Marin comes, at least for most of the week. I figure that I can make sure he knows that she is joining our family, not replacing him. When I go back to work after my leave, they can both go to school together after spending some much needed quality time with me.
Other than those two little (BIG) things, I'm ready! I'm ready to meet Marin and enter this new stage of my life.