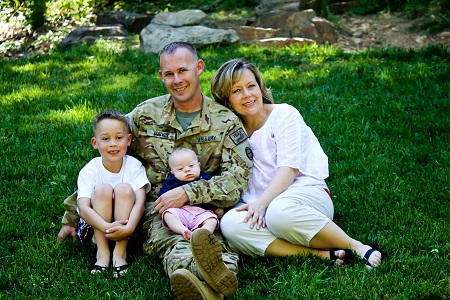 By Jade Stone
My how time flies!I'd swear I went to sleep last night and it was still summer and all of a sudden we are back in school.Vacation's over and now we are back to work, some of us holding out for the next holiday.The summer was an absolute whirlwind and I think I may still be reeling from it a bit. 
As many of you know, my husband Jay, was deployed to Afghanistan for 9 months, during which time we found out that there would be a new addition to our family that would be here before he came back.We did have an opportunity to bring him home on emergency leave for a few weeks so he could be here for the birth but I declined for fear that something worse might happen and he would need it more for something else.
You see, Jay's mom had been diagnosed with colon cancer in October of 2012, and sadly the treatment was not effective.She had been suffering with significant pain since January and we were unsure what the outcome would be. Actually, we knew what the outcome would be, we just had no idea of the time line. 
Well, we got through the birth of our second child and were waiting patiently for June to roll around when we could all be together again as a family.At the time, Jay was set to come home in the middle of June. Unfortunately, we received news that his mother had taken a turn for the worst in May and it was evident that she would not be with us much longer.
That emergency leave we were saving came in pretty handy after all.While I really missed having Jay home to meet the new arrival, I was so thankful we had held off for this very reason.I made the emergency call to the Red Cross and thanks to their efforts, he was home within 4 days.
That may not seem very quick to you but it really is when you consider that the message had to be sent from the Red Cross, received by his unit/Platoon, then forwarded to his immediate commander, who determined whether or not Jay could leave at all and if so had to make arrangements to get him to Kuwait via military transport that was already in route and then onto a commercial flight home.
Did I mention the 9 hour time difference?  There are just so many hoops involved in getting a soldier home on emergency leave. At any rate he arrived home safely almost one month early. 
While we had hoped for a little more excitement and happiness to be apart of Jay's first time meeting with his son it was an incredibly bittersweet moment.His joy for meeting the new baby was overshadowed by the sorrow he felt over the impending knowledge of soon losing his mother.
Everyone expected soft music and butterflies to usher in that very special moment in time but instead we had to rush through, say hello and then head out of town to see family, all with our firstborn pulling on his coat tail begging daddy for time, a luxury no one had. Don't get me wrong, he was still very excited to see the boys, we just couldn't enjoy the moment or make it the glorious reunion we had hoped for.  
 The day Jay arrived I was able to pick him up at the airport with just enough time to pick up our oldest (who had no idea daddy was coming home) from school that afternoon.Now, that was a moment that will hang in my mind for eternity. Imagine a young boy walking out of school and along the way kicking rocks, investigating the weeds, sitting down to tie his shoe, all with no idea that his dad, who has been gone for more than 9 months, is standing only a few feet from him.
Jess never looked up as he crossed the lawn.In fact, he was within 15 feet of Jay when he just decided to sit down and tie his shoe.The handful of parents waiting with us for their children quickly caught on as to what was about to happen.It was obvious, with Jay in uniform, that a soldier was about to reunite with his son after a very long time apart.
Jess hadn't finished tying his shoe when Jay couldn't take anymore and ran over to ask him if he needed help.The surprise in Jess' eyes was priceless.My heart did flips to see the two embrace in such a way that indicated their feeling of loss and joy at the same time.Once Jess realized who this stranger behind him was, he jumped up and into his arms and wouldn't let go.
I looked over at the other parents to see tears flowing down their faces.I didn't know many of them but it was evident their hearts ached for the two after witnessing this moment.There are some things in life that don't need words and the solemn look in their eyes said it all-thank you for your service and I'm sorry you had to do this.Now that was a moment for the history books.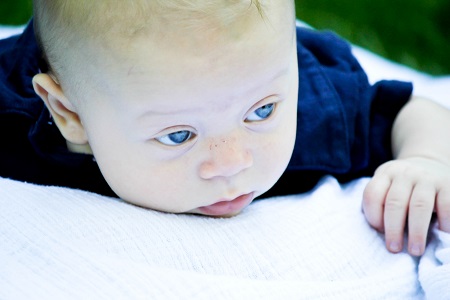 Meeting Tucker on the other hand was slightly different.Of course, Jess was excited to introduce daddy to the new baby but was more excited to play with daddy now that he was home. As Jess made the introductions Jay just stood staring at the little wonder who was looking curiously back up at him.He scooped Tucker up and held the baby boy close, trying to absorb everything about him, the sight, the smell, all of it at once.
It became quite obvious Jay didn't want to let him go but after a minute or two of cradling the tiny infant, Jess decided the reunion was over and it was time to play. I coaxed the baby from Jay's arms and convinced him that playing with Jess was best for now and that when he went to bed Jay could have all the time with the little one that he wanted (as I would be catching up on some much needed sleep!).
That seemed to appease him just enough though he was reluctant. You could see the heartbreak in his eyes as he relinquished the bundle of joy.I honestly can't imagine how hard it must have been to be so close to his new son and yet so far away that he still couldn't spend time with him just yet.The two would have plenty of time in the future to bond but at the time it was pretty tough.  There just weren't enough hours in the day to make up for so much lost time. 
Jay began dealing both with the demons of war that always haunt a soldier when he returns and the grief of his mother's impending death.In the weeks that followed, it seemed she would only last a few more weeks and each day we all thought "its going to be tomorrow" and yet she clung to life.
In retrospect it was good that she held on so long because it gave Jay a little extra time we thought he'd been cheated.But it was truly horrible to watch her dwindle into a shell of herself. Within a few touch and go months, she was gone.Now the real healing would have to begin for both the war and his mom. 
To be continued …

Jade welcomes your comments here as well as any suggestions you may have for her future posts. You may also e-mail her at akajadestone [AT] yahoo [DOT] com. To read previous Military Mama posts, CLICK HERE.