By Jade Stone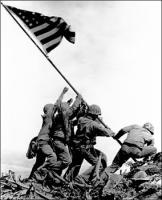 If you have a Facebook account, you know how easy it is to be sucked into reading the news feeds of your friends and family members, as well as the random individual you barely know now but vaguely remember sitting next to in 3rd grade and felt obligated to accept the friend request any way.
Well, I am no different.
Once in a while I catch myself reading the random facts about other people's lives. However, something caught me off guard this past week. I realized I was reading a negative post about our military and then after a second look, I realized that it came from a fellow educator.
His comment was: "I think that applauding the military passengers on a civilian flight is a little silly". And worse yet, this individual's friends agreed and went on to discuss the negative "crimes" that select members of our military have committed against others and therefore applauding simply condones that sort of behavior. Stunned… I suppose that there are a few members who do not deserve to wear the uniform, certainly the 4 star general that was recently dismissed for conduct unbecoming of a soldier is one of them. However, I don't think that is the point or the message conveyed by civilians when they applaud service members on a plane. 
I believe that applause is the simplest, easiest way to convey the message of "thanks" to the soldiers who represent the idea of sacrifice and commitment to something greater than themselves.
When the soldiers came home from Vietnam, they were treated horribly, spat upon and called baby killers by civilians. Ironically, those soldiers were fighting so that the very individuals who hurled insults at them had the freedom to do so. In light of that fact, many people may be trying to make up for not thanking the Vietnam veterans in the first place and are committed to not allowing our Iraq veterans to endure feeling as though they had sacrificed everything for a country who hated them.
Furthermore, Civilians are not necessarily applauding those specific soldiers for things they have done, but rather all soldiers for the vigilance and unwavering bravery in an ever changing time of conflict. They don't know if those soldiers are returning from a deployment, coming home for R&R, or are serving as escorts for a fallen soldier and are guiding that soul home with the honor and dignity only a true soldier can understand, never leaving his or her side until they reach their final destination. 
That's what I think, but I passed the comment on to another friend who is serving in Afghanistan now. The following are his remarks:
"It really shows how small his world is. I would imagine that he has never been to a third world country, has never been thirsty without a water fountain, faucet or refrigerator with bottled water nearby. We are not over here for him. We are over here for our children and our families' children. We are here for each other so we can all come home together. We are here to make sure there is never a suicide vest at your school, and that car bombs are not a daily threat at the mall.
"I personally get embarrassed when I have to walk through the airport and have people applaud me. I prefer to be the quiet professional. I think he is embarrassed that he has nothing to show for his life and that to show support to the military lets him see how little he has sacrificed for his country. We appreciate the gratitude when it's expressed. In short, I think he is silly. It just goes to show how simple his world view is, which is sad, considering he is educating our children".
He makes a great point. While we may or may not agree with war, our soldiers carry out the orders given without question because it's the way it has to be. While no one wants to lose a single life to war, these brave individuals who make up only 1% of our nation's population signed up freely, willing to sacrifice everything for the greater good. And quite frankly, without people willing to do just that, we wouldn't have a military, and worse yet, we would no longer be the America that so many of us love and call home, and our first language would certainly not be English but rather the language of the first country to come along and decide to take over.
There would be no one to stop them. So the next time you are in a place where you find those around you applauding and you are faced with the decision on whether or not to follow suit, think about the family that soldier left behind to do a job you would not, so that you may fly freely about the country, eat and drink anything you choose as you see fit, and go wherever you wish without fear of suicide or car bombers. Then decide: do they deserve a simple thank you?
Special note from Jade: A tremendous thank you goes out to LTC Lutsky and his soldiers who are currently serving in a faraway place taking care of business. My heart goes out to you and your families. I pray for your safe return every day. Thank you for allowing me to use your comment. Please know your words do not fall on deaf ears!
Jade welcomes your comments here as well as any suggestions you may have for her future posts. You may also e-mail her at akajadestone [AT] yahoo [DOT] com. To read previous Military Mama posts, CLICK HERE.