Okay, girls. This is the true story of my quest for more "good hair days." During the past six months or so, I've been REALLY frustrated with my hair for a few reasons:
No matter how much I deep conditioned it, it always looked too dry, bordering on unhealthy.
No matter how many straightening products I used on it, it would still do this awkward half wavy, half straight thing that gave me a daily "bedhead" look. (Not the casual, sexy kind of bedhead look. More like the "I've been living under a bridge" look.)
I had to wash my hair every single day if I had any hope of it looking halfway decent. Even with a high-powered flat iron, I couldn't tame the mess my hair would be when I woke up in the morning, so it was easier to just start all over with a shower. Even after a long flat-ironing session, my hair would start to flip, wave and generally misbehave a few hours after I styled it in the morning.
So you understand why I was fed up with it, right?
The research: Being the hard core research geek that I am, I Googled the heck out of my hair problems. I searched for advice for women with thick, semi-wavy hair like mine. I'd heard that Keratin treatments and Brazilian Blowouts could help with the kinds of issues I was having, so I concentrated my research on those two services. Both sounded pretty great. I read a ton of reviews on both. (And yes, there are always some scary reviews out there that say that a hair treatment caused their hair to fall out, but there were way more good reviews versus scary ones.) You should do your own research to make sure you're comfortable with any kind of new hair service.
The decision: After talking to a stylist at Freshair Salon in Fayetteville — the wonderful Kara Cashion — I decided to try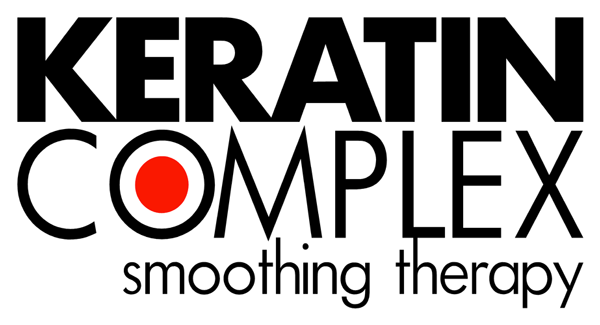 the Keratin Complex treatment. The smell is better, and it's supposed to last longer. I only had to sit with the chemical on my hair (which didn't stink) for about half an hour or so. Then she dried it and flat-ironed my hair in very small sections until it was stick straight.
The temporary downside: The only challenging part about the actual treatment was the three days afterward. After you get a Keratin treatment, you can't wash your hair for three days. You can't hide it under a ball cap, either. You can't put it in a ponytail. You have to avoid sweating too much around the hairline. The treatment needs to really set in for those three days. My hair doesn't get greasy quickly on its own, but with extra product in there, it got pretty oily that third day. It was tougher than I anticipated to wait it out.
The BIG upside: That first shower after the 72-hour waiting period was glorious. But the big moment of truth was drying my hair for the first time. I was stunned and thrilled because this is what happened:
It took less time to dry it.
It did what I wanted it to do with the use of only a round brush and a hair dryer. No flat iron needed! (Insert hallelujah chorus here.)
It stayed that way ALL DAY, and the next morning when I rolled out of bed, all I had to do was brush it to make it look good again. Ah, sweet victory!
Update: Right now I'm a little more than a month past the service, and I'm still SO glad I did it. My hair doesn't look dry anymore. In fact, I feel like the texture of it looks the way it did 10 years ago — like my hair got younger.
It also continues to be so much easier to style on a day-to-day basis, and I can usually get away with washing it every other day. I'm definitely planning on another Keratin treatment when this one starts to wear off, and my research tells me that a treatment can last anywhere from three to six months!
The cost: It's expensive. No doubt about it. I winced when I handed over my credit card to pay for the service, which can range from $350 to $450, depending on your hair type and length. But here's the way I look at it: I'm a big believer in "price per wear" when it comes to clothes, and I think the same principle applies to hair.
For example, if you buy a super cheap shirt for 10 bucks, wear it twice, and then it looks terrible after the second time you wash and dry it, then your "price per wear" was about $5 and the shirt probably doesn't get worn again. If you bought a more expensive (better quality) shirt for $50 and you wear it 25 times over the course of two years and it still looks great, then your "price per wear" is $2 and will continue to get lower each time you wear the shirt — which means the more expensive shirt is the better deal. Make sense?
So, since I'm "wearing" my hair every second of every day, it's easier to justify the cost when I look at it over a five-month period. Yes, my husband probably thinks its nuts to spend that kind of money on hair, but then again he has never had to operate a flat-iron on a daily basis. And now he doesn't have to hear me gripe at the mirror when my hair looks ridiculous. Everybody wins.
Would I do it again? Yep. In a heartbeat. I really do feel like it has improved the overall condition of my hair, in addition to making my life easier in the mornings. Next time, I may consider getting the Keratin Complex Express Blowout, simply because it's quicker (takes about an hour) and you only have to wait 8 hours after the treatment before you can wash your hair. It's also less expensive (about $125), however, the effects don't last as long (about 6 weeks). But it still might be worth a try if I'm not up for the three days of no hair washing.
If you'd rather try the Brazilian Blowout, that treatment ranges in cost from $250 to $350, and it takes about 2 to 3 hours. You can, however, wash your hair right away and the treatment effects last up to 3 months.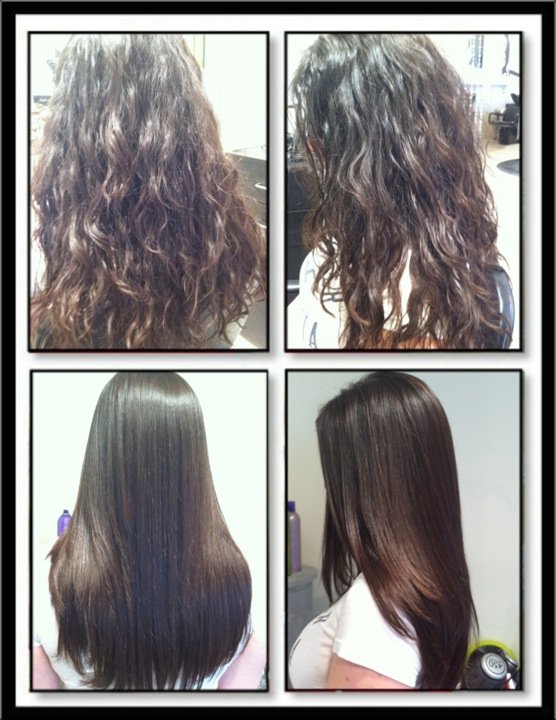 If you're considering giving Keratin Complex or Brazilian Blowout treatments a try, be sure you do your research. I looked at as many "before and after" pictures as I could find online, and I talked to as many friends as I could who knew people who'd had this service done. You can find great "before and after" pics on the Freshair Facebook page. Just click HERE. (Note: The pic on the right isn't my hair. It's one of the pics on the Freshair Facebook page, and this particular shot is before and after a Brazilian Blowout. Pretty dramatic, huh?.)
Just be sure to go to a stylist who has experience doing these types of treatments and works in a well-ventilated salon (since reviews say that some treatments like the Brazilian Blowout can create strong fumes.) If you'd like to talk to the stylists at Freshair Salon in Fayetteville (where I got my hair miracle), you can call them at 479-251-1877 or check out their website by clicking HERE. Owner Shelby Lambidonis can answer your questions, as can any of the stylists on staff.
Good luck, and Happy Hair Days.