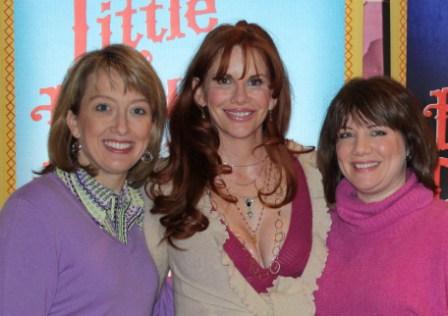 Guess who we got to meet yesterday, mamas?! Laura Ingalls Wilder!!! Um, Melissa Gilbert, we mean. Seriously, it was hard not to think of her as "Laura" even though her pigtails had been replaced by long, flowing auburn hair and she was wearing a very flattering dress that didn't have a collar all the way up to her chin.
It really was a thrill to sit across from the girl we both grew up with on the TV show Little House on the Prairie. We were a little nervous at first, but you know what makes for the perfect icebreaker?
Talking about your kids!
It was great to hear that she has to pick her son's clothes up off the floor, just like us 😉 Melissa, who was so funny and gracious during our chat at Walton Arts Center, has four sons. Two are her older stepsons with husband Bruce Boxleitner. Her younger son, Dakota, recently joined the Marines (he's shipping out on Jan. 25!) and her youngest son is in Little House on the Prairie, The Musical with her!
Yep. Her 14-year-old son, Michael, is Willie Oleson in the show. Michael completes his studies through long-distance learning while on the road with mom. Oh, and their French bulldog named Josephine is also on tour with them, too (but she doesn't have a role in the play).
We saw a picture of Michael and their 1-year-old pup on Melissa's phone, and they're both adorable.
We told her that many of the mamas mentioned in comments how much they always loved to hate Nellie Oleson (Alison Arngrim). Ironically, "Nellie" was one of her closest friends on the set and Melissa said she's still in touch with the Little House bad girl. Melissa even joked that "Nellie" really is a brat — just not to her.  The two normally stay in touch on Twitter, but they recently saw each other in person on Jan. 1 when Melissa and her husband renewed their wedding vows for their 15th anniversary.
Melissa said her favorite numbers in the musical are "Fire in the Kitchen" and the one at the end that she's dubbed "Prairie Dog Millionaire" (after Slum Dog Millionaire the movie). She has some killer prairie dance moves in both songs.
Melisa said her version of Ma is different from the one on the t.v. series. She plays the matriarch more … "feisty", she says.
OK, we know she gets asked this over and over, but we had to ask about her most favorite television episode of Little House, ever.
"The Lord is My Shepherd," she responded definitively.
As most of you who love the show recall, in that episode, she blames herself for her baby brother's death and runs away to the mountains. She says the emotion that she and "Pa" (Michael Landon) share in these episodes is absolutely authentic.
"It was by far the most emotionally wrenching episode and there was not a hint of any acting going on," she said. "My boys cry if they happen to see it."
Melissa says her son, Michael, has blossomed since joining the tour. He hasn't acted before, but is loving the touring life.
Doing the show together has definitely brought them closer, Melissa said.
Something funny she mentioned was that "Pa" was a prankster in real life. He once taught her how to stretch cellophane over the other actors' hotel toilet seats, which got her into some hot water.
He also called her "half-pint" — even when they weren't filming since there were two girls named Melissa on the set.
It was a lovely interview and we had so much fun telling her about our favorite episodes and impressions of the show. She even sent a video message to the mamas! Click on the little window to see a greeting from "Laura".
We liked that Melissa said she loves Southern audiences since they hoot and holler just a little louder than their Northern counterparts during all the good scenes.
She said the musical — full of folks who persevered through many hardships — is good timing these days. She finds that Southerners are particularly plucky.
"There's a hopefulness down South that's undeniable," she said.
Note: We saw the musical on opening night and it was fabulous! The show runs through Sunday, January 10th, and here's a bonus: Walton Arts Center is offering Family Discounts up to 50% off when you buy four or more tickets! Call the box office at 479-443-5600 for info. Oh, and if you want to know the real Little House scoop, check out Melissa's new memoir: Prairie Tale.