Mamas, the school year for Northwest Arkansas will be here before we know it, so parents are looking at child care options — both for preschoolers and for elementary-age kids who need child care after school. One of our sponsors, Infiniti Child Care, is in the enrollment period now so you may want to check it out before the spots are filled.
For parents who want this option, Infiniti even offers pick-up from 16 different Bentonville schools! (We also love that they offer flexible enrollment options for parents of preschoolers who might be looking for partial day or partial week options.)
Infiniti also accepts Essential Worker Vouchers, which help cover the cost of child care for families that qualify as essential workers. (Here's a link for the application.)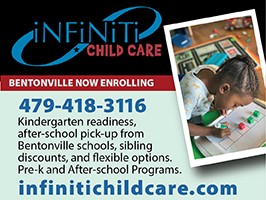 We recently interviewed Infiniti Child Care's Program Director, Dr. Natalie Emmons (who is also a developmental psychologist), to find out what this facility has to offer parents and kids in Northwest Arkansas.
Most moms in Northwest Arkansas are familiar with the Infiniti name through Infiniti Athletics. Tell us when and how Infiniti Child Care became an extension of this local brand.
We started with after-school care and a school-age summer program when the owner Jim Mootz built a new facility in Bentonville in 2017. Since then, we have grown to include a year-round pre-k program with a full kindergarten readiness curriculum. Many of our families love the quality of our child care programs and the convenience of their child being picked up for a class at Infiniti Athletics without parents having to leave work or interrupt their evening.
We offer a discount for Infiniti Athletics classes and convenient walk-over for classes for students enrolled in our after-school and pre-k program.
How does having the gym as part of your location help you as a childcare facility?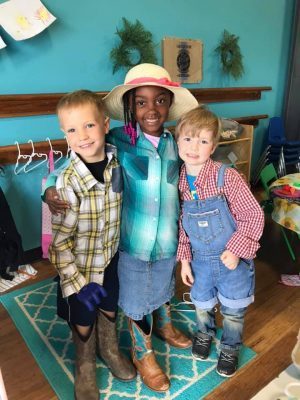 Children who attend our child care programs can easily attend one of the many classes offered at Infiniti Athletics and be taken to and from classes by a staff member. During our summer and school break enrichment programs, we utilize the gym for open gym for our pre-k and school-age kids, and they always have a blast!
As you know, finding a great preschool is so important to moms. How does your preschool ensure that kids are getting the right start to early education? What kinds of things can parents expect to see their children doing if they were to drop in during a typical day of preschool?
Our pre-k program has a full kindergarten readiness curriculum called D.I.G. by Abrams Learning. The curriculum is integrated and theme-based and focuses on teaching the whole child. Literacy, math, science, and socio-emotional learning are all key elements of the curriculum.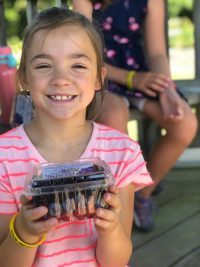 Ongoing assessments of children's learning is part of what we do as well so that we can cater to children's individual learning needs and check to see where they are in terms of kindergarten readiness. During a typical day, children have literacy and math circles where they are introduced to the "word of the day" and learning concepts, they are able to practice their skills through intentional play-based learning centers, they play outdoors in our custom-built playground, they have gross motor time in a large open room, and they have a rest period where they can nap or do a quiet activity.
In addition to building academic skills, we work with pre-k kids daily on developing positive social relationships and practicing healthy emotion regulation, as we know that these skills are foundational for success.
Your website mentions "intentionally designed spaces." Tell us what those spaces are like and why it's important for kids to have access to these themed areas.
We incorporate Developmentally Appropriate Practice into all of our child care programs. Children benefit from having intentional spaces to encourage curiosity, imaginative play, and ultimately learning. Children build skills through play and interacting with others. Our school age students have access to our "discovery" classroom that includes board games, arts & crafts, and sensory play materials. They also have access to our "imagination" classroom that includes pretend play centers with a variety of toys and materials that encourage cooperative play.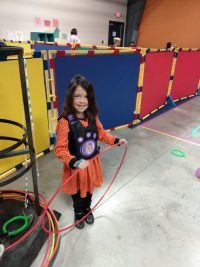 Our gym area is an open space for active play and includes a basketball goal, materials like jump ropes and hula-hoops, and a soft matted area for high-energy group play. Our pre-k classroom is set up with intentional learning centers that rotate based on the learning theme and/or season.
Our custom-built playground is designed to encourage imaginative and active play in a natural landscape and includes a large wooden playhouse, outdoor kitchen with tables, a gravel "creek-bed" winding through the playground to the wooden bridge that has a sandbox and gravel play area on each side.
Tell us about your after-school pick-up program from schools in Bentonville. What is a typical after-school day like for the kids in this program?
Children in our after-school program are picked up from 16 different Bentonville schools —  Apple Glen, Ardis Ann, Bright Field, Centerton-Gamble, Central Park, Creekside, Elm Tree, Evening Star, Mary Mae Jones, Old High, Osage Creek, RE Baker, Ruth Barker, Sugar Creek, Thomas Jefferson, and Willowbrook. Once the kids are picked up, they are transported to Club Infiniti where they will start their day by enjoying a healthy snack that we provide while visiting with their friends and teachers.
Throughout the afternoon, children have an opportunity to spend time in our gym for active play, our intentionally themed classrooms, and our custom-built playground. We aim to have a variety of activities that appeal to the individual interests of children who attend our program.
How does your background as a developmental psychologist help you structure and oversee the programs offered at Infiniti Child Care?
My educational background has provided me with a deep level of understanding children's cognitive development and emotional needs. Having conducted and published research on topics related to education and early learning, I'm able to develop quality programming that encourages children to learn in a natural and stimulating play-based environment.
The teacher trainings I provide focus on topics like brain development, social development and learning, and how to individualize behavior guidance. I value ongoing education and recently completed the requirements for the Arkansas Children's Program Administrator Certificate through A-State. I'm also a CPR and First Aid Instructor.
What's your favorite part of the work day and why?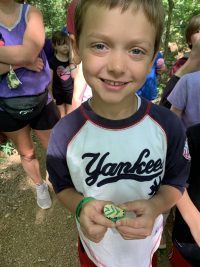 The best part of my day is greeting the children when they arrive and finding teachable moments to help a child build a skill or new level of understanding. I also enjoy watching the children grow and change. We have many kids that have been with us a long time, and it's touching and rewarding to see them practicing kindness and good emotion regulation skills that our program has helped instill in them.
What is Infiniti's policy about the use of electronics like smartphones, iPads, etc.?
We are a "no electronics center." We believe children learn best through meaningful social interactions and that children are in need of practicing social and communication skills now more than ever.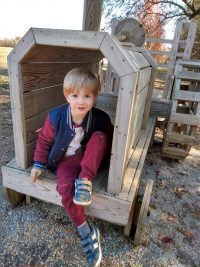 We live in a device and technology driven world, and as a result, children are losing opportunities for face-to-face communication that's so essential for their social development. Our teachers are trained in modeling healthy social interactions, helping children interact in positive ways, and encouraging conflict resolution between peers.
Do you offer child care when schools are not in session, like Winter Break?
We have offered School Break Enrichment programming during extended school breaks since we started our program. During these programs, children participate in fun activities and lessons based on a theme, and they go on field trips to nearby attractions. This school year, our school break programming will depend on families' needs.
What are the most important things for parents to ask as they're deciding whether or not a childcare facility is the right one for them?
It's important to ask whether the program is currently licensed by the Department of Human Services and to check the DHS child care search website to see if there have been any complaints or violations at the center. Families can also ask what kind of training and background checks are done with the teachers at the program and about the educational background of the director(s) and teachers.
Many of our school-age teachers are education or psychology majors and have career goals to work with children. It's also important to talk about your child's individual needs with the director and ask about the program and activities to ensure that it will be a good fit for you and your child.
To ask Dr. Emmons questions about the programs offered at Infiniti Child Care, call 479-418-3116 or click here to visit the Infiniti Child Care website.