Most Northwest Arkansas moms are waist-deep in back-to-school season and everything that brings with it. This year, unfortunately, back-to-school season also brings unexpected exposures to Covid in various situations including school, sports, birthday parties, family reunions, holiday gatherings, etc.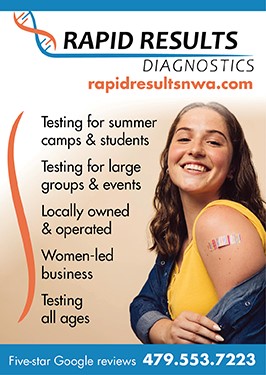 If you or your child need a Covid test in a hurry, you can get one via drive-through testing at Rapid Results Diagnostics, one of our nwaMotherlode sponsors located in Bentonville (with another location at the XNA airport).
I took my own vaccinated daughter to Rapid Results for a test at the end of the summer when she was exposed to the virus at a summer camp. (She was negative. Hallelujah!) The whole process was quick (under 10 minutes), painless, and we never even had to get out of the car. My daughter's dog even got to ride along for moral support.
Rapid Results Diagnostics is owned by women right here in Northwest Arkansas, so this is another good way to support female business leaders in our community.
We recently interviewed Angela Luzzo with Rapid Results Diagnostics to find out more about how their company operates.
What do local parents need to understand about the Delta variant and the need for reliable testing?
States with large outbreaks are seeing rising case numbers among children. We've had a child as young as 10 months old test positive. The Delta variant is 50-60% more transmissible. We saw a lot of positive cases from summer camps in children and teens.
How quickly could your company provide a Covid-19 test result? What type of test is it? Are the results given to me on paper or in an email?
Covid-19 Antigen (active infection) test results come back in 10 minutes. Results can be delivered via email or on paper.
Do you test in a clinic setting or can I go through a drive-through testing site?
Our testing site in Bentonville is 100% drive-thru. Our second location is now open at XNA in the baggage claim area to assist travelers with testing and to also offer a responsible service to our community.
Can my younger kids get tested at Rapid Results?
 Yes they can! We are testing children as young as 11 months.
Any tips for helping nervous kids through a Covid test?
Ahead of time, tell kids what's going to happen at the testing site. And let them know that the testing professionals can/will be wearing gowns, gloves, glasses, and masks. Explain that wearing these protective coverings helps keep everyone safe.
If you can, sit next to your child and hold their hand or rub their arm while you talk with them. If you can't sit next to your child, reach out and touch them. Sing a favorite song, show a short video, read a special book. If your child is old enough, do deep-breathing exercises together.
Rapid Results has over 100 5 star reviews. Patients love our staff!
Is there a charge for getting a Covid test? What if I don't have health insurance?
Medically necessary COVID-19 testing is at NO-COST-TO-YOU. If you have health insurance, you must bring your insurance card(s) and valid government issued ID with you to your appointment. You will not be responsible for any patient cost share. If active coverage cannot be located, your test will be submitted to the federal HRSA uninsured program for payment.
Medically necessary testing examples include symptomatic, exposed, pre-op surgery, etc.
If you do not have insurance, we ask that you bring your Social Security number (card not needed) and/or your driver's license/state ID to submit the cost of your test to the federal HRSA uninsured program. If you do not have insurance and are using the federal program for the uninsured to cover your COVID-19 test, the visit will be covered at no additional cost to you. However, any additional point of care lab testing that is not COVID-19 related and is a  medical necessity, will not be covered under the uninsured fund.
Do you take walk-in customers?
Yes. But it's always easier to book ahead on-line and it saves time in the drive-thru.
If I or one of my kids is exposed to Covid, how long would it take before a test would show as positive if they've caught the virus?
It takes a minimum of two days to show a positive for Covid. The CDC recommends waiting a minimum of 5 days to get the most accurate result.
If I have already recovered from having Covid, can you test me for antibodies? How is that test administered?
Yes. Our Rapid Antibody test takes about 5 minutes and is administered by finger prick. Results are delivered in 10 minutes.
If I'm going to fly in the next few months, when should I get a Covid test to provide proof that I'm negative before boarding the plane?
This is a tough one! We recommend all patients visit Travel.gov and research the specific country they are traveling to and what their requirements are for entry.
What other type of testing services do you offer?
Additional testing services offered are:
Covid-19 Testing (Antigen, Antibody and RT-PCR)
14 Panel Drug Screen w/Breathalyzer
Ovulation Testing
Pregnancy Testing
Flu A&B
Strep Group A
Urinalysis
STD Testing
Can you provide drug screenings of teenagers or young adults?
Yes. Rapid Results has a 14 Panel Drug Screen. The test is administered in the office and the results are delivered in 10 minutes.
What are the benefits of getting tested with a locally-owned company like yours?
Supporting local business is so important in growing the community. Our staff is amazing and you can actually call our office to speak with someone if you have questions or concerns.
For more info about Rapid Results Diagnostics in Bentonville, click HERE to visit the company's website to schedule an appointment or call them if you have additional questions. The number is 479-553-7223.