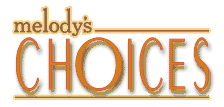 Quinetta Tyree, that's who! Quinetta's the lucky winner of the $100 shopping spree to Melody's Choices with locations at Pinnacle Promenade and the Northwest Arkansas Mall. At the NWA mall, they have the "fun" store with all the kids' toys (it's definitely a touch-this kinda place) and across the hall they have the gorgeous ornaments, Snow Village pieces, Pandora jewelry and other awesome collectibles like Quinetta's favorite: "Just the Right Shoe."

Quinetta, who works at JB Hunt Transport, e-mailed us this message about what she'd do with $100 at Melody's Choices: "I would probably spend all of it on the vast toy section. But I would probably have to take out a little time to visit the 'Just the Right Shoe' section. The Notorious (pictured left) and the Caramel Kick are especially eye catching."
Just the Right Shoe is a Department 56 collectible, said Melody's Choices Owner Steve Melody.
"Just the Right Shoe has been a nice, affordable collectible for a number of years here at Melody's Choices," he said. "The selection is really great right now."

Among these kickin' collectibles is the 2008 Christmas Kiss shoe (pictured right), which was created specifically for this year's holiday. Steve said a new, fabulous shoe comes out every year during Christmas.
Whether it's toys or $100 worth of Just the Right Shoe(s), we look forward to hearing about Quinetta's shopping spree. She'll certainly have quite a selection to choose from. Click HERE to make your own Choices! Or stop by either location to shop your favorite store in person.