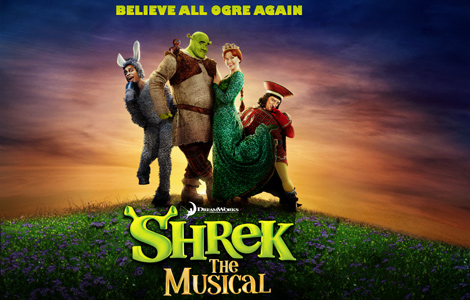 We're about to go BIG and go GREEN! Because this week we're giving away FOUR tickets to Shrek the Musical on opening night, Tuesday, October 30th, at the Walton Arts Center. Woo-hooooo! Your kids are going to go nuts for this show!
We're pairing the show tickets with food we think all ogres would love — great Mexican food from Mojitos in Fayetteville.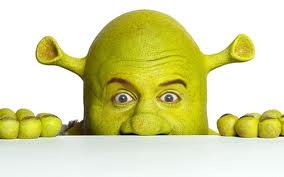 ABOUT THE SHOW: Shrek already took movie theaters by storm and now he's staking a claim on stages across the country. The hit musical is based on the Oscar-winning DreamWorks movie and it brings the story of everyone's favorite ogre to life on stage. And it wouldn't be Shrek without a talking donkey, a villain with a short temper, a cookie with attitude and over a dozen other fairy tale misfits.
The musical features an amazing score of 19 new songs, lots of laughs, great dancing and stunning scenery. It has been called the funniest new musical on Broadway.
ABOUT THE FOOD: This giveaway package includes a dinner gift card to Mojitos Mexican Grill on Joyce Boulevard in Fayetteville. Mojitos is, of course,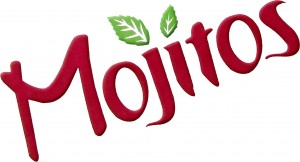 famous for the drink for which they are named and also for the amazing food. (Did you know they have TEN different Mojito flavors to choose from? Yum.) The Mojitos menu also includes favorites like guacamole made fresh at your table, the famous (and enormous) Razorback burrito and their signature dessert — flaming strawberries.
HOW TO ENTER: To throw your name in the online hat for the tickets and dinner gift card, click the big orange comment button below and tell us who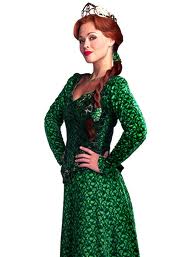 your favorite Shrek character is — Donkey? Fiona? Gingy? Shrek himself?
You can also enter via email by sending your answer to giveaways@nwaMotherlode.com.
HOW TO INCREASE YOUR CHANCES: If you really want to snag these tickets, you can definitely increase your chances by helping spread the word about this giveaway. Just send an email to your friends and family about the giveaway and be sure to put giveaways@nwaMotherlode.com on the CC line of your note so we can give you proper credit. You'll get an extra chance to win for every person you tell.
COOL SHREK EXTRAS: If your kids wear their Halloween costume to see Shrek the Musical, they'll get a FREE Halloween treat! (And that means your kid's Halloween costume will get worn more than once, so there's another bonus!)
TO GUARANTEE YOUR TICKETS: It's easy! Call the box office and buy them before it's too late. And get this — if you buy an adult ticket for the Halloween performance on October 31st, you'll get a FREE child's ticket (which sounds like a treat for the wallet, too!) Call the box office at 479-443-5600 or click HERE for more details.
COSTUME PARADE AND TRICK-OR-TREATING: At 6 p.m. on Halloween night, there will be a costume parade and trick-or-treating at Walton Arts Center. And for another treat, some of the characters from the musical will make a special appearance! It'll definitely be an unforgettable Halloween night.